CBOE stock gains as CME Group floats $16B offer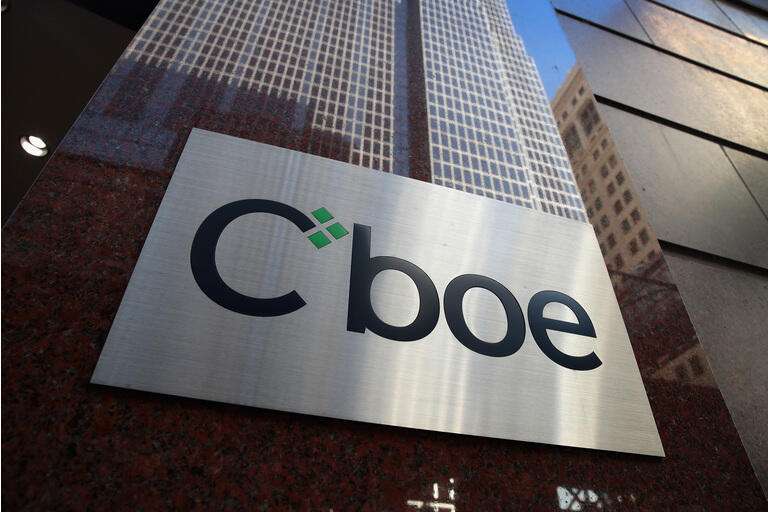 Scott Olson/Getty Images News
CME Group (CME

-2.2%

) approaches Cboe Global Markets (CBOE

+4.4%

) with a proposal to buy the Chicago-based exchange company for almost $16B, the Financial Times reports, citing people familiar with the matter.
CME offers 0.75

of one of its shares for each CBOE share, valuing CBOE at ~$150 per share, or 21% more than its $124.11 price at Tuesday's close.

The merger would tie together two of the most prominent names in financial derivatives and would broaden CME's product lines beyond futures and options contracts related to commodity markets such as oil, wheat, and U.S. interest rates.
Cboe, which was formed from CME's predecessor in 1973, is known for its VIX volatility indexes and contracts. It operates through five segments — Options, North American Equities, Futures, European Equities, and Global FX.
The transaction would be CME's largest acquisition since it bought the New York Mercantile Exchange in 2008 for $7.9B in cash and stock.
See Cboe's stock spike in below chart and CME drop in chart below.
In 2019, the London Stock Exchange fended off a £32B proposal from Hong Kong Exchanges and Clearing.
In recent years, exchanges have been focusing on buying data- and technology-related firms rather than fellow exchanges. In June, Intercontinental Exchange's mortgage technology unit bought eVault technology to secure storage of digital mortgages and notes. And the London Stock Exchange acquired data analystics firm Refinitiv for $27B.