Economy continues improving, tapering may be warranted: Powell press conference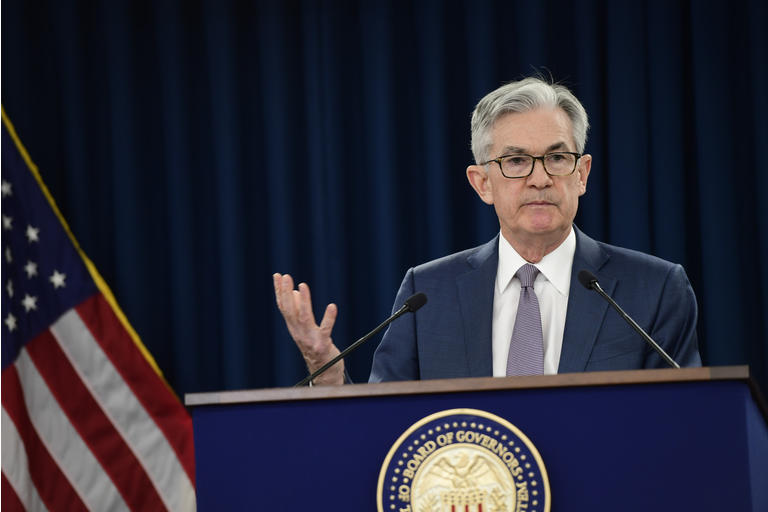 Economic activity and employment continues to improve, but the COVID-sensitive sectors' recovery has slowed as virus cases increased, said Federal Reserve Chairman Jerome Powell at his post-monetary decision press conference.
At 3:25 PM ET, the

major stock averages pull up again, with the Nasdaq rising

1.2%

, the S&P 500

+1.2%

, and the Dow

+1.3%

.

3:24 PM ET: Press conference ends.
3:22 PM ET: The Fed intends to publish a discussion paper soon on the potential for a central bank digital currency, he said.
3:21 PM ET: It's not Powell's expectation that the Fed would lift rates before it completes the asset-purchase taper. "It wouldn't make any sense" to add assets, which would be adding accommodation, and increase rates at the same time.
3:18 PM ET: Powell declined to discuss the potential for him to be reappointed as Fed chair and whether he's had any discussions with the White House; his term expires in February 2022.
3:16 PM ET: When asked about shrinking the Fed's balance sheet, "let's get through with this taper" then the Fed will look at that issue, Powell said. "It's just not time yet in my thinking."
3:15 PM ET: "The Evergrande situation seem very particular to China," he said. "There's not a lot of direct financial exposure for the U.S... I wouldn't draw parallels to the United States corporate sector."
3:06 PM ET: "It's very important that the debt ceiling be raised in a timely fashion," he said. Failure could result in severe damage to the economy. "No one should assume that the Fed can fully protect the markets or the economy" if the U.S. defaults on its debt, he added.
3:01 PM ET: The three major U.S. stock averages backtrack from their leg up when the Fed issued its policy statement and economic projections. The Nasdaq

+0.8%

, the S&P 500

+0.9%

, and the Dow

+1.0%

. 10-year Treasury yield rises to 1.33%; earlier the yield fell to 1.30%.
2:50 PM ET: There will be a thorough and comprehensive review of the Fed's framework for its officials' permissible financial activities, he said. While the central bank's current rules have been in place for "a long time," it's "clearly seen as not adequate to sustaining the public's trust," he said.
He said it's a reasonable thing to prohibit Fed officials' from owning securities that the Fed is acquiring in its asset purchases. (See also: Fed officials' stock trading has Powell open ethics review.)
2:45 PM: There was "very broad" support on the FOMC for the timing and pace of the asset purchase taper plan, he said.
Update at 2:42 PM ET: The FOMC may come to the assessment that "substantial further progress" has been made toward its employment goal "could come as soon as the next meeting," Powell said.
Some members feel that test has already been met. "In my thinking the test is all but met," he said, adding that he'll be looking for decent September employment report to consider the test met. (Added at 2:58 PM ET).
Original post: Supply bottlenecks lasted longer than expected, he said, and while supply effects are "prominent" for now, "they will abate."
He assures that the central bank will respond if inflation remains higher than expected.
Moderation in the pace of asset purchases may soon be warranted if the economic recovery remains on track. The timing and pace of asset purchase reductions are currently expected so that the tapering ends in mid-2022, he said.
Still, risks to the outlook remain, he added.
Earlier, the Fed indicated that tapering asset purchases "may soon be warranted," while it held rates at near zero and continued purchasing Treasurys and mortgage-backed securities at its current pace for now.
In its economic projections, half of the Federal Open Market Committee's 18 members now expect a rate increase to occur by the end of next year.