What's next for movies: Morgan Stanley does a cinema sweep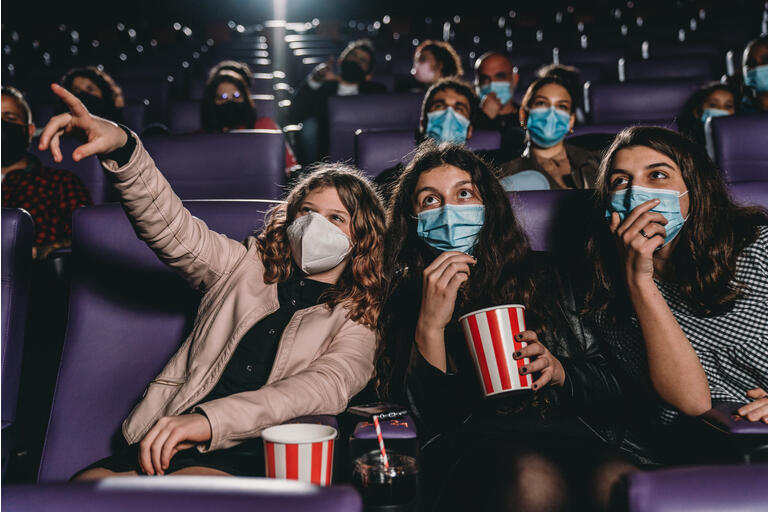 "The movie business is dead, long live the movie business," says Morgan Stanley in a deep new note from a number of its analysts looking at an industry that has "permanently changed" in the wake of a COVID-19 pandemic

and a rush of technological and cultural developments.

"Since the onset of the pandemic, we have seen film production and theaters shutter and restart," the firm says. "This has coincided with an accelerating strategic pivot towards streaming by major media companies."
What have we learned over 19 months of the COVID-19 pandemic about movies and their likely future? The first lesson is that as vaccination rates have increased, so too have moviegoers returned to the theaters that had faced a long stretch of zero revenues. But hybrid or simultaneously online releases, as well as shorter cinema release windows, do appear to cannibalize theatrical receipts, the firm says.
Still, studios are looking to the in-person experience to "eventize" their biggest-budget tentpole films and help sustain film profitability.
And in a key development for cinema's future, studios are separating into two categories, Morgan Stanley notes. One group - what Sony calls the "arms dealers" - are selling their content to everybody. this group includes Sony (NYSE:SONY), Lions Gate (LGF.A, LGF.B) and indie/mini-major studios like MGM Holdings (OTC:MGMB) and Eros STX Global (NYSE:ESGC).
But another group, a mix of old-guard studios with tech-studio upstarts, is selling all of its wares in-house: Disney (NYSE:DIS), Warner Bros. (NYSE:T), Paramount (VIAC, VIACA), Netflix (NASDAQ:NFLX), Amazon.com (NASDAQ:AMZN) and Apple (NASDAQ:AAPL) all have their own content-hungry major streaming operations.
The "sum impact" of that evolution is that we will see more films released, but with more of them going direct-to-streaming, and a continuing shrinking of the window between theatrical and online release. (Still, the release window will matter for tentpole films in a way that will retain a substantial global box office industry for years, even if it's smaller than pre-pandemic, the firm says.)
And though it's become more challenging to measure the magnitude of studios' earnings power, the firm says the value of film libraries, production capability and creative talent is on the rise. Historically films were valued on a 10-year "ultimate" profit/loss outlook; and while movies are far from dead, that old accounting model is collapsing. Still, studios' values are increasing: Take a look at the importance of film content to driving streaming, the inflation in licensing revenues for pay-one and library windows, and even private market activity (Morgan Stanley is advising MGM Holdings (OTC:MGMB) on its agreement to be purchased by Amazon.com (AMZN).)
Turning to particular names, the firm reiterates Overweight ratings on Disney (DIS) and Netflix (NFLX) given their "unmatched" combination of content and distribution scale. Disney (DIS) is one of the clearest examples of the shifting monetization focus, it says, given that its financial reporting breaks out third-party content sales (and those revenues now make up just 15-20% of the total Media and Entertainment segment, with DTC increasingly pushing out third parties and Disney's linear networks in the revenue mix).
Meanwhile, Netflix (NFLX) famously ramped up to release a new original film every week of 2021 - and it's "reached an inflection point where it is poised generate meaningful sustainable (free cash flow), highlighting the benefits of its production scale and pricing power."
As for the "arms dealers," Morgan Stanley sees "rising strategic optionality" at Lions Gate (LGF.A, LGF.B), which is seeing those growing library revenues even as it tries to boost TV production to ramp up its original content slate at Starz.
And a pro forma look at AT&T's (T) WarnerMedia spin-off suggests that the Warner Bros. studio may be an underappreciated asset for Discovery (NASDAQ:DISCA), Morgan Stanley says. It has a $32 price target on Discovery Series C (DISCK, implying 33% upside) based on valuing the combined streaming operations at 3.5x 2024 revenues, the linear business at 6x EBITDA, and the studio at 10x 2023 EBITDA.
For the box office, while consensus is pointing to 2022-2023 attendance 10-20% below pre-COVID levels, Morgan Stanley expects some slight upside there due to a strong film slate (including some delayed productions). Long-term, after a strong rebound in 2022, it expects box office to normalize about 15% below pre-pandemic levels, with risk skewed to the upside.
And among the theaters it's raising its price target on Cinemark (NYSE:CNK), which might be "the last reopening stock in media." Consensus EBITDA expectations for 2022-2023 are about 70-80% of prior peak levels, and the shares are trading at a historical EV/EBITDA discount (7x vs. a more typical 8-9x). It's raising Cinemark's target to $24, implying 19% upside.
Major and "mini-major" film studio stocks: Disney (DIS), Universal (NASDAQ:CMCSA), Warner Bros. (T), Sony (SONY), Paramount (VIAC, VIACA), Lions Gate (LGF.A, LGF.B), Eros STX Global (ESGC), MGM Holdings (OTC:MGMB).
Cinema tickers: (NYSE:AMC); Cineworld (OTCPK:CNNWF); Cinemark (CNK); (NYSE:IMAX); Marcus (NYSE:MCS); Reading International (NASDAQ:RDI); Cineplex (OTCPK:CPXGF); National CineMedia (NASDAQ:NCMI).
This weekend, Universal's (CMCSA) Halloween Kills is taking its stab at becoming the latest film to draw $50 million on an opening weekend.