Can Trump fans make Digital World Acquisition the next GameStop?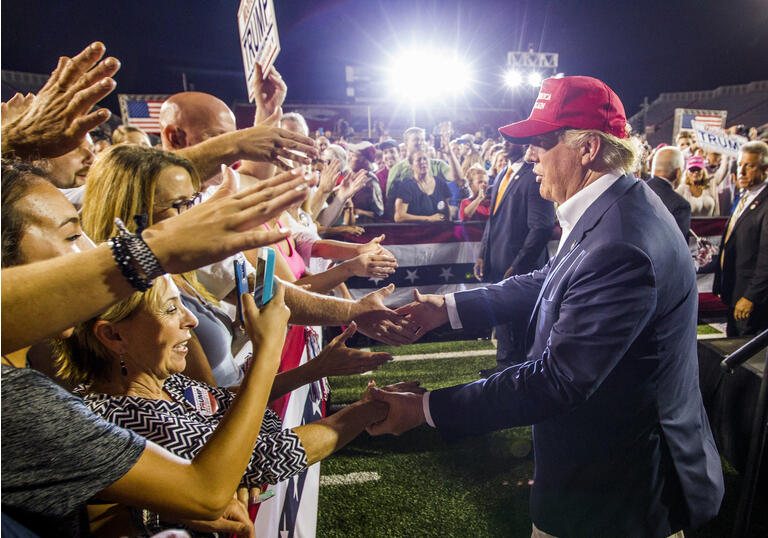 Digital World Acquisition (NASDAQ:DWAC)

+140%

is soaring on just the idea of a Donald Trump media empire and his ardent supporters could be enough to kick the SPAC into meme territory.
DWAC, likely to eventually change its name

to Trump Media & Technology Group, will be the

home of TRUTH Social where the former president revive his social media presence

.

Interest in the SPAC is shooting up, with searches such as "DWAC stock," "Trump stock," and "Trump social media" and "Trump SPAC" trending.
Traditional market wisdom would assess Digital World's (DWAC) move as a knee-jerk pop that will settle down as more details become available about the actual business.
But if the meme stock surge illustrated anything, it's that retail investor excitement can overwhelm fundamentals and valuations.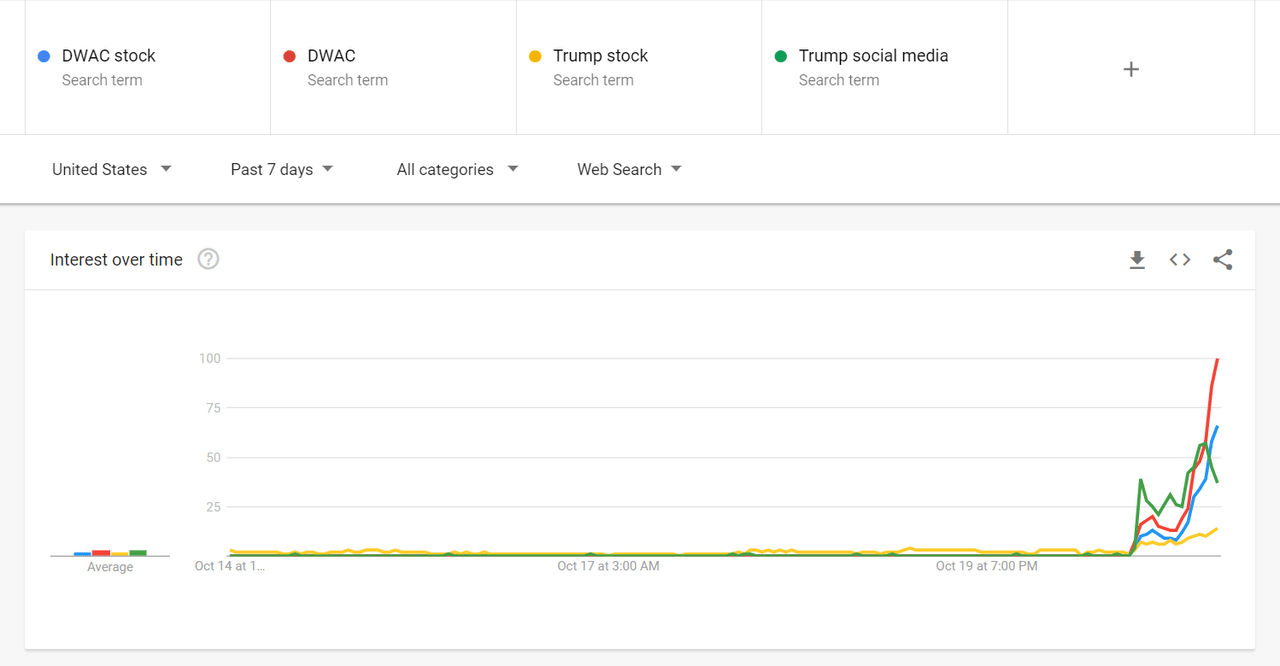 Politics over profits: Thanks to their army of retail investors and traders, GameStop (NYSE:GME) and AMC (NYSE:AMC) remain at levels where Wall Street analysts have abandoned their valuation models.
Roaring Kitty had a thesis on why GME was undervalued, but the January rally was spurred by new investors with a passion that mirrored that of political social media posters.
It could even be argued the desire to foment a short squeeze was in part political, punishing hedge funds and others considered Wall Street gatekeepers.
Trump has support from about half the country and that's a lot of potential investors. If the stock is seen as a reflection on Trump's political prospects, growth metrics like revenue and monthly average users cease to matter. Valuation metrics like P/E would matter even less.
And if a run happens, hedge fund money could chase, leading to further gains.
What's missing? The main difference between DWAC and meme stocks is the absence of short interest and the possibility of a short squeeze.
A healthy options market for the SPAC is also missing, although if demand is there, there should be plenty of people willing to write puts and calls.
Today, there are only a few mentions of DWAC on the WallStreetBets subreddit in the daily discussion thread (where Tesla (NASDAQ:TSLA) gets the most mentions by far post-earnings).
But the recent SEC analysis of GameStop's (GME) January rise saw limited impact from short covering and the same for a gamma squeeze caused by hedging call writing.
"Whether driven by a desire to squeeze short sellers and thus to profit from the resultant rise in price, or by belief in the fundamentals of GameStop, it was a positive sentiment, not the buying-to-cover, that sustained the weeks-long price appreciation of GameStop stock," the report said.
PACs for SPACs? Trump's social media platform will have a big advantage over a traditional startup company, not just in its built-in user base but in the ability to reach out through donor lists via e-mail and encourage signups.
Could that also be used in some way to encourage people to buy the stock?
Trump has never recoiled from mixing his business with his politics. A fifth of his Save American PAC's operating budget was spent at Trump properties.
Non-connected PACs couldn't actually invest donations in the SPAC, but there is nothing to stop Trump from celebrating the performance of shares in posts.
Trump TRUTH and Tesla Twitter: There are surface similarities with Tesla (TSLA), which also has a polarizing and charismatic leader synonymous with the company.
Tesla bulls championed the stock against a lot of early naysaying (although there are certainly still detractors).
And Tesla's Twitter (NYSE:TWTR) crowd hasn't shied away from the political sphere.
Electrek reports that Tesla Twitter tried to cancel President Joe Biden's appointee for a senior NHTSA adviser role for safety, who published a paper, later removed, that was critical of Tesla's Autopilot.
Based on price targets, Wall Street is on board with the bullish Tesla thesis. But Tesla (TSLA) stole a March on what is now considered the future of the auto industry.
Right now, there is a question over whether TRUTH Social could stay online given challenges finding and keeping Web hosting.
Without a game-changing innovation to attract institutional money, DWAC's prospects for lofty returns likely remain with meme forces.
Dear Readers: We recognize that politics often intersects with the financial news of the day, so we invite you to click here to join the separate political discussion.