Clean energy stocks gaining traction as COP26 kicks off: Sector Watch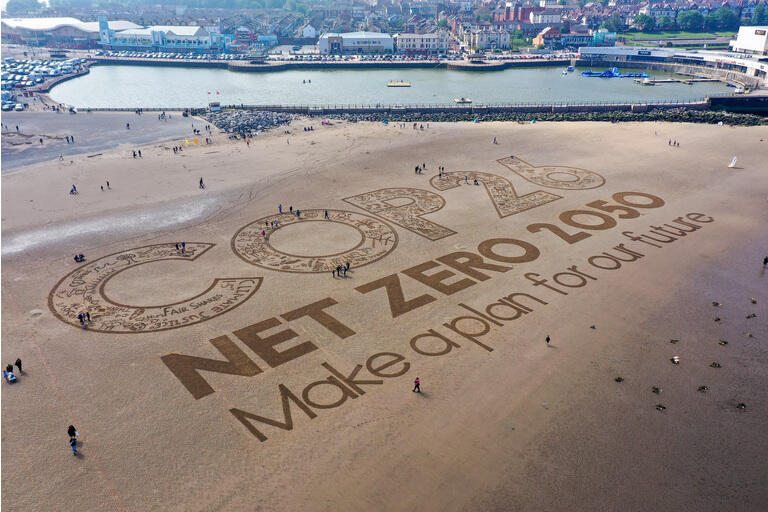 The two-week COP26 climate summit is underway today in Glasgow, Scotland and the team at DataTrek is looking at clean energy fund holdings that will get more attention.
They look at the top three clean

energy ETFs with at least $1B assets under management.

"Alt energy has significantly lagged the S&P 500 year-to-date, but has meaningfully outperformed over the last month," DataTrek founders Nicholas Colas and Jessica Rabe write.
The iShares S&P Global Clean Energy ETF (NASDAQ:ICLN) is down 13.4%, but up 9.1% in the last month.
Its top holdings in order are Vestas Wind System (OTCPK:VWDRY), Enphase Energy (NASDAQ:ENPH), Orsted (OTCPK:DNNGY), ConEd (NYSE:ED) and Plug Power (NASDAQ:PLUG).
The Invesco Solar ETF (NYSEARCA:TAN) is down 8.3% year to date and up 14.8% in the last month.
It has the biggest holding in SolarEdge Technologies (NASDAQ:SEDG) at 11%, followed by Enphase, First Solar, Xinyi Solar and Daqo New Energy (NYSE:DQ).
The First Trust NASDAQ Clean Edge Green Energy Index Fund (NASDAQ:QCLN) is up 3.4% year to date and up 11.5% in the last month.
Tesla (NASDAQ:TSLA) is the top holding at 10.3%, followed by NIO (NYSE:NIO), Albemarle (NYSE:ALB), Enphase and ON Semi (NASDAQ:ON).
"The 3 alt-energy ETFs we covered hit their all-time highs in January and February of 2021 amid hopes of Federal government support of clean energy by the then-newly installed Biden administration," DataTrek says. "That enthusiasm waned soon thereafter with a largely do nothing Congress on the issue of clean energy and a myriad of issues on the President's agenda."
"Nevertheless, recent performance has shown clean energy has piqued investors' interest again, so this upcoming climate conference will set an important tone for this investment theme going forward."
The big winner in President Joe Biden's Build Back Better legislation framework released is clean energy, Goldman Sachs said this week.
Clean energy "appears to get a similar amount of tax benefits and spending as it would have in House-proposed legislation, despite the framework's much smaller overall cost," Goldman's Jan Hatzius writes.
"Notably, most of the clean energy provisions appear to last for 10 years in the framework, while nearly every other proposal would last for a shorter period than previously proposed," Hatzius says.
The "clean energy space works best when there are highly visible political catalysts," DataTrek concludes. "COP26 certainly qualifies, but to be longer-run bullish on clean energy stocks requires a belief that US government spending in this area will continue to increase, and materially so."
"At present, with a narrowly split House and a midterm election in a year's time, that is a hard investment case to make in our view."
Ahead of the summit, BofA picks its top stocks for COP26.