Facebook wants to rule the metaverse. What's the metaverse?
Nov. 07, 2021 12:02 PM ET
Meta Platforms, Inc. (META)
MSFT, NKE, AMD, NVDA, TTWO, TCEHY, SNAP, U, RBLX, METV
By:

Jason Aycock,

SA News Editor
144 Comments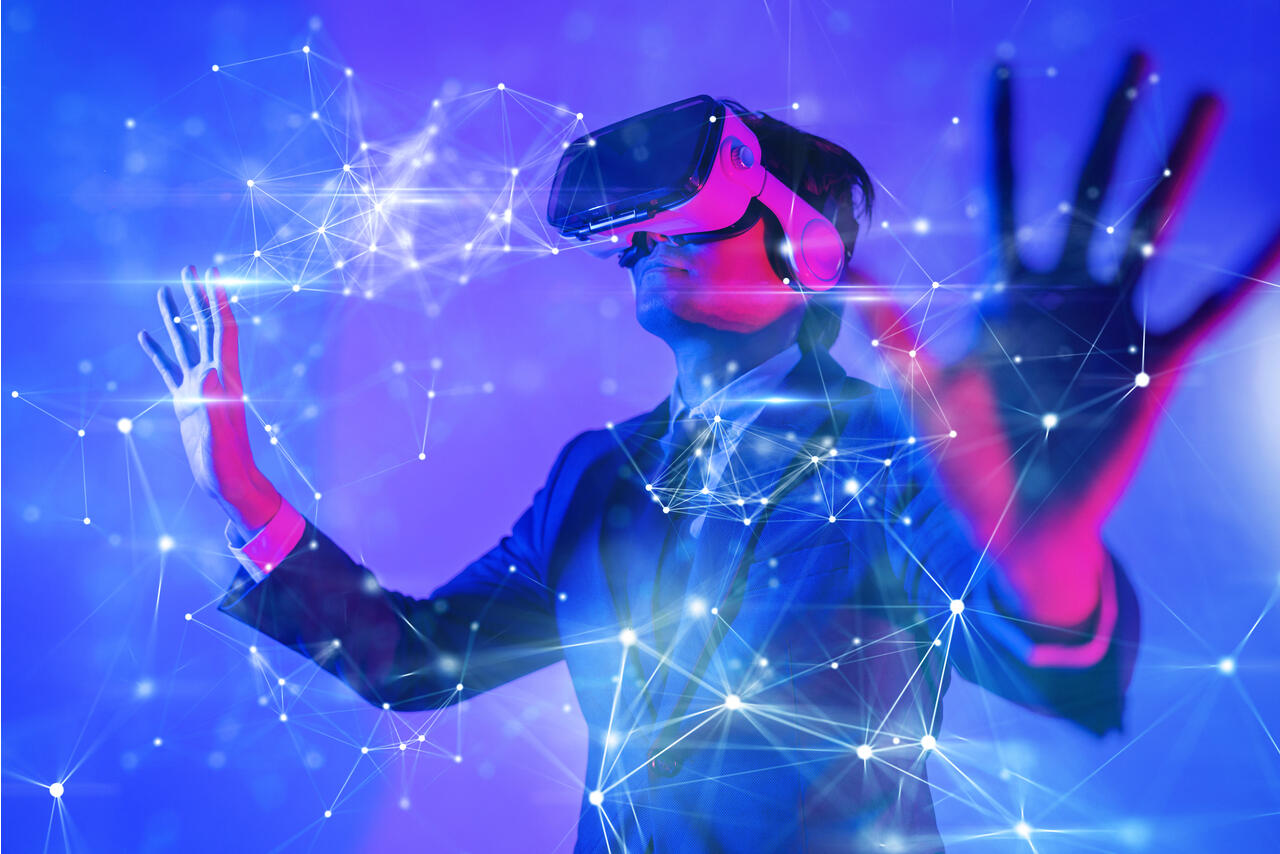 Buzzword or breakthrough, the word "metaverse" has spread like wildfire through media discussions, boardrooms and earnings conference calls since Facebook (NASDAQ:FB) CEO Mark Zuckerberg said this summer that his vision was to become the "metaverse

company"

- and doubled down just over a week ago by renaming the parent company Meta Platforms. But what is the metaverse? And why are so many companies quick to cite the buzzword as they talk about their future plans?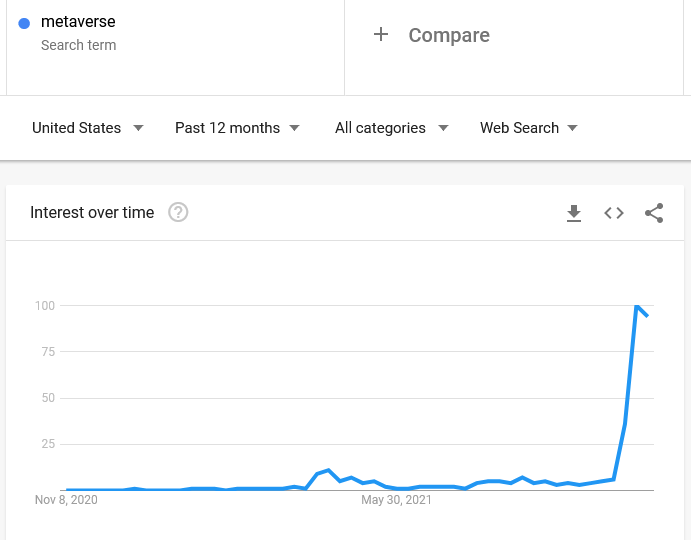 A Google Trends depiction of the interest in the term "metaverse"; the spike coincides with the second half of October.
The term isn't new. It arose from early-'90s science fiction. In Neal Stephenson's novel Snow Crash, it represented virtual urban "real estate" that people could own and virtually travel through, encountering other users and otherwise engaging in life activities - and fantasies.
At its essence the term represents a shared virtual space, existing continuously on the Internet, and rendering information and interactions in a three-dimensional immersive virtual reality, rather than simply watching a screen. Imagine VR (virtual reality), but rather than moving through your own private world, it's in a huge shared space, the same way the Internet originally connected discrete networks into one, super-interconnected space.
There's no one definition that everyone accepts for a concept this new - which means that the ultimate boundaries will be shaped by the players investing the most.
Facebook's corporate name change to Meta Platforms indicates its seriousness about taking virtual ownership of the concept. In the company's July earnings call, CEO Mark Zuckerberg described the metaverse as "a virtual environment where you can be present with people in digital spaces. You can kind of think of this as an embodied Internet that you're inside of, rather than just looking at."
Meta is putting its early product-demonstration focus behind Oculus (which it bought in 2014), particularly its well-received Oculus Quest 2 virtual reality headset. In August it introduced Horizon Workrooms, a remote meeting solution that relied on the Quest 2 to pursue more natural virtual meetings than video calling, using mixed-reality desk/keyboard tracking, hand tracking, spatial audio and "Oculus Avatars."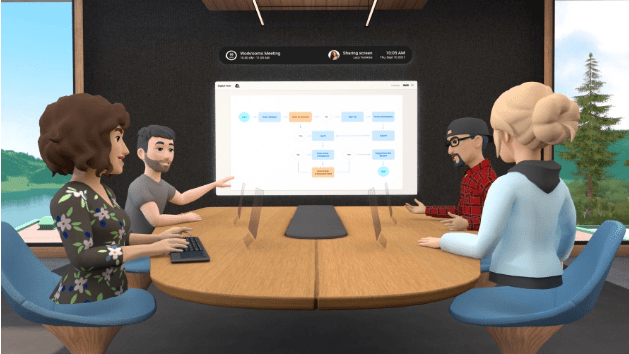 Avatars gather in a virtual meeting space in Meta Platforms' Horizon Workrooms.
Now "Horizon" will be the brand under which Meta produces immersive social experiences that used to fall under Oculus. "Horizon is the social platform we are building" in order for people to relate in the metaverse, Zuckerberg says: The house that serves as a starting point when Quest 2 users enter the space will change from Home to Horizon Home, while Horizon Worlds will expand beyond home and office to offer applications including virtual concerts and afterparties.
Skeptical investors, however, are coalescing around the school of thought that this "revolutionary" move to a metaverse has been in progress for some time - particularly in video games.
Virtual spaces where real users could congregate using iconic representations called avatars are as old as the mid-1990s World Wide Web, when "places" like AlphaWorld and, later, Second Life allowed users to bump into each other and chat (but using then-low-powered computers and their lower-resolution displays).
A constantly iterating videogame industry has been bringing ever more lifelike representations of 3D physics into games seemingly every few months. And along the way, it has carved out a sizable premium chunk of the entertainment market.
"We're probably the biggest metaverse company on earth," Take-Two Interactive Software (NASDAQ:TTWO) CEO Strauss Zelnick said this week. He doesn't necessarily subscribe to Zuckerberg's vision: "I'm skeptical that we're going to wake up in the morning and intentionally sit at home, strap on headsets and conduct all of our daily activities that way." But he does see it as useful for enjoying a heightened reality, such as through video games. (Just the same, Take-Two's stock jumped in late October as Zuckerberg highlighted the company during his Facebook Connect keynote, saying Grand Theft Auto: San Andreas would be coming to the Quest.)
Videogame companies are no slouch when it comes to matching technological might with other metaverse developers. Before it went public this spring, Roblox's (NYSE:RBLX) founder David Baszucki said, "We're shepherds of the metaverse." The company has its own digital currency for users inside ("Robux"); it's drawn fans to virtual events; and recently Chipotle Mexican Grill (NYSE:CMG) said it would become the first restaurant brand to open a virtual location in Roblox's world.
Epic Games, the makers of battle-royale game hit Fortnite, has raised $1 billion to pursue development toward metaverse goals. And Fortnite has already used its tech to draw millions to virtual concerts featuring artists including Ariana Grande and Lil Nas X. So it's already moved beyond games to use its virtual 3D space for non-gaming applications. (Epic is majority-owned by CEO Tim Sweeney, and Tencent Holdings (OTCPK:TCEHY) has a 40% stake.)
That's where things get quite metaverse-y: Meta and Mark Zuckerberg envision a world where you'll meet others to work, play - as well as attend entertainment, get fit, and (perhaps most important) shop. (Nike (NYSE:NKE) is looking to hire designers for virtual wear, and has filed for trademark applications for its brands on such things as virtual branded sneakers and apparel.)
In a week where everyone was planting their flag on the metaverse concept, Microsoft (NASDAQ:MSFT) CEO Satya Nadella used his Ignite conference talk to say "The Microsoft cloud was built for this era," adding that part of its approach will include a version of its Teams conferencing platform that includes digital avatars for users, rivaling Meta's Horizon Workrooms.
Aside from the claims to company thought leadership in the space, though, what about potential suppliers who could benefit from a variety of potential outcomes? An "embodied" Internet will need a metric ton of graphical fidelity - and that means a surplus of processing power from companies like Nvidia (NASDAQ:NVDA), AMD (NASDAQ:AMD) and Unity (NYSE:U).
Nvidia (NVDA) stock rose by double digits last week when Wells Fargo said the upcoming arrival of Nvidia's Omniverse Enterprise was the next step in its strategy for development of the metaverse - a $10 billion incremental market opportunity in the coming five years.
Unity's (U) CEO John Riccitiello says "I'd argue the metaverse is already here; it's just another word for the Internet," adding that it's not about competition or whether Roblox or Fortnite wins: "There'll be millions of endpoints in the metaverse and these will include shopping sites, games, social networks, messaging apps, 3D conferencing, and job sites and constructions augmented by real-time 3D in the form of Unity Reflect."
Companies like Snap (NYSE:SNAP) continue to draw metaverse chatter not because of virtual reality but because of augmented reality, still seen as a window into the metaverse. Snap announced yet another iteration of its Spectacles smart glasses in May at its Partner Summit.
One thing's for sure: With tens of billions of investment dollars flowing its way, some concept of the metaverse will be hard to avoid - and it looks like author Stephenson's 1992 satirical take on it may be coming to bloom: a fascinating shared space not so much run by people but dominated by powerful corporations. (Just saying: In Snow Crash, the metaverse's conceptual ground zero, the country has undergone an economic collapse following hyperinflation that coincided with the masses shifting toward digital currency for untaxable transactions.)
One fund happy to see Facebook/Meta boosting the metaverse into the center of discussion: The Roundhill Ball Metaverse ETF (NYSEARCA:META), which seeks investment in "companies that engage in activities or provide products, services, technologies, or technological capabilities to enable the metaverse, and benefit from its generated revenue sectors." Seeking Alpha contributor BOOX Research has a bullish stance and recently dug into the ETF's holdings.