Pfizer, BioNTech say three vaccine doses neutralize Omicron in early lab tests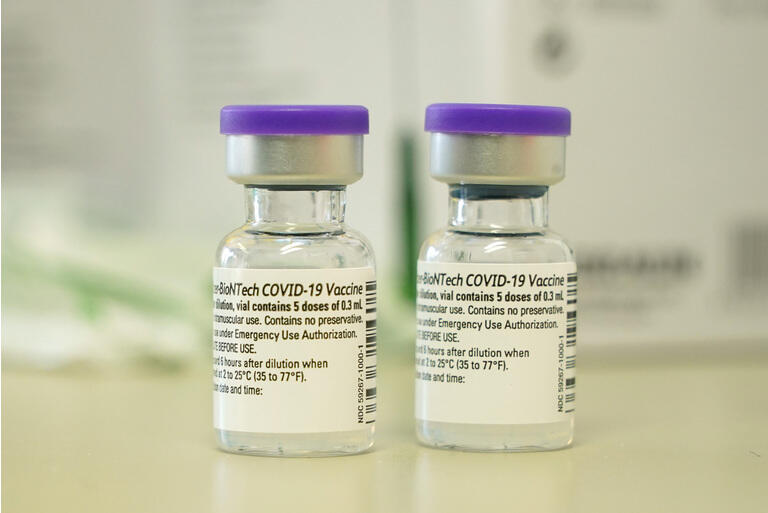 After a modest loss early, the shares of Pfizer (NYSE:PFE) and BioNTech (NASDAQ:BNTX) have rebounded in the pre-market after the companies announced that three doses of their COVID-19 shot neutralize the newly detected Omicron

variant of the coronavirus. Based on early lab studies, the vaccine makers said two doses of the vaccine led to "

significantly reduced neutralization titers."
The blood samples of vaccine recipients have indicated that the neutralization against Omicron one month after the booster shot was comparable to the levels that were observed after two doses against the original strain of the coronavirus. However, in those who only took two vaccine doses, there was a more than a 25-fold decline in neutralizing antibody levels on average against Omicron compared to the wild-type. It implies that the two doses could be inadequate to offer protection against the variant, Pfizer (PFE) and BioNTech (BNTX) said.
If there is a requirement, the vaccine developers said they could deliver an Omicron-based vaccine in March 2022 and reiterated their four billion doses of manufacturing capacity estimated for the vaccine in 2022.
On Tuesday, preliminary lab results from South Africa indicated that their COVID-19 vaccine had only offered partial protection against the newly detected Omicron variant of the coronavirus.
Moderna (NASDAQ:MRNA), which also sells a COVID-19 vaccine based on the same messenger-RNA technology used in Pfizer (PFE)/ BioNTech (BNTX) shot has also

lost ~3.3%.

Meanwhile, their rivals, AstraZeneca (NASDAQ:AZN) and Johnson & Johnson (NYSE:JNJ), both of which have traditional vector-based vaccines against COVID-19 are trading flat.
After testing blood samples of 12 individuals vaccinated with Pfizer (PFE)/ BioNTech (BNTX) COVID-19 vaccine, the researchers at the Africa Health Research Institute in South Africa had detected a 41-fold decline in neutralizing antibodies against the variant.
Though it is a sharp decline, that does not mean the variant can evade immune defenses completely, Prof. Alex Sigal, the virologist who headed the study, said. "The vaccine takes a hit but it is not a completely different ballgame," The Wall Street Journal reported quoting Sigal. As more data become available, these preliminary findings could change, Sigal noted. The test has not considered other components of the immune system that are also important in fighting the virus.

Pfizer (PFE) and BioNTech (BNTX), had previously stated that they could update their vaccine to target the new variant within 60 days, and shipments could begin in 100 days.