Rumble SPAC jumps after Trump social media partnership confirmed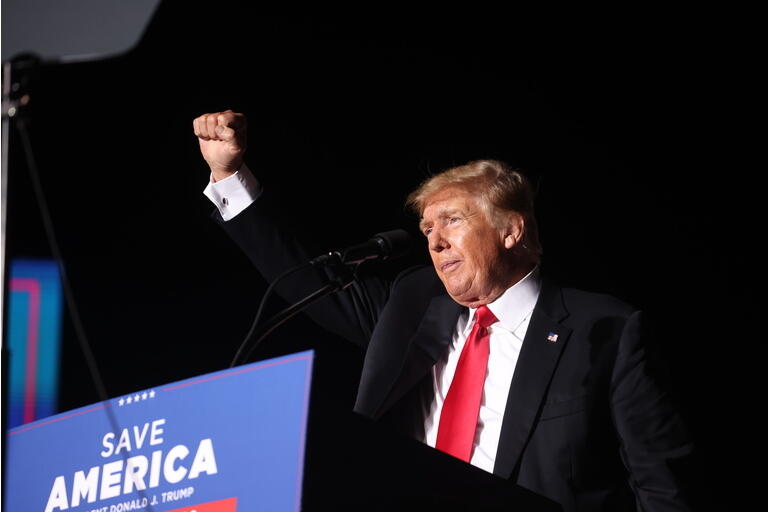 SPAC CF Acquisition Corp. VI (NASDAQ:CFVI), which agreed earlier this month to take YouTube's competitor Rumble public,

surged 16%

in after hours trading after Trump's social media confirmed a partnership with Rumble.
Trump Media & Technology Group, which is going public

through a deal with SPAC Digital World Acquisition

(NASDAQ:DWAC)

, said it entered into a wide-ranging technology and cloud services agreement with Rumble. As part of the partnership, Rumble will deliver video and streaming for TRUTH Social.

"I have selected the Rumble Cloud to serve as a critical backbone for TMTG infrastructure," Trump said in a statement. "TMTG has already launched Truth Social on the Rumble Cloud for invited guests only, and the initial Beta launch has been excellent. America is ready for TRUTH Social, and the end to cancel culture."
The confirmation comes after CF Acquisition (CFVI) shares rose after Cantor Fitzgerald CEO Howard Lutnick, whose firm started CF Acquisition (CFVI), said in a Bloomberg TV interview on Dec. 3 that Trump's Truth Social social media platform has a deal with Rumble for distribution.
TMTG and Rumble are also in exclusive talks for Rumble to provide infrastructure and video delivery services for TMTG's subscription video on-demand product, TMTG+.
Digital World Acquisition (DWAC) shares

rose 5.9% i

n after hours trading.
The Rumble SPAC deal is expected to close in the second quarter of 2022. Upon the closing of the transaction, Chris Pavlovski, the founder and CEO of Rumble, will retain voting control.
Earlier, Rumble cuts ties with Tremor International alleging censorship of Dan Bongino.
Dear Readers: We recognize that politics often intersects with the financial news of the day, so we invite you to click here to join the separate political discussion.