Higher number of first-time homebuyers indicate selling crypto supported down payments: Redfin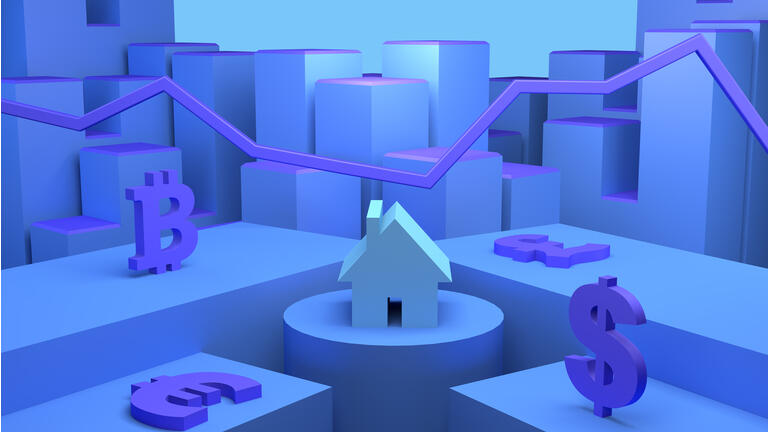 Housing market like any other sector has also been impacted by the rapidly increasing usage of digital currencies as a mode of payment.
With surging home prices leading to larger down payments, some buyers are finding

non-traditional ways to cover the cost and compete with other bidders.

A Redfin survey in Q4 indicated that one in nine first-time homebuyers (11.6%) surveyed said selling cryptocurrency had helped them save for a down payment.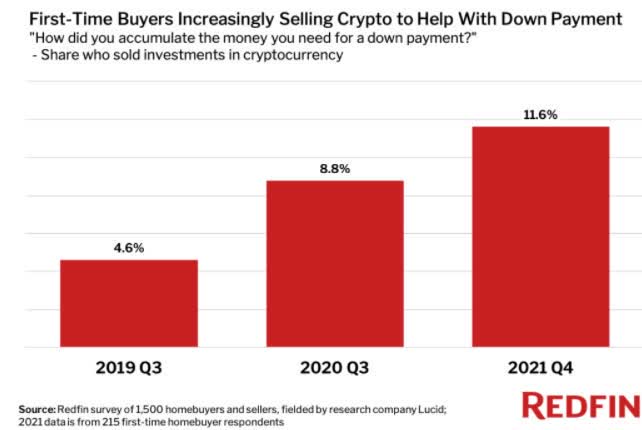 In the past 6-months trading, Bitcoin (BTC-USD) prices have reported 25.9% gains while Ethereum (ETH-USD) reported a 46.7% gain; (DOGE-USD) reported a 1,434% gain in the past 1-year. In November, Bitcoin peaked to its all-time high levels of $69K.

Millennials, who own more cryptocurrency than other generations, now account for more than half of new mortgages.
Related Info: A latest CNBC Millionaire Survey in December indicates that 83% of millennial millionaires own cryptocurrencies and plan to buy more during the next year; >50% of that investor base has half of their holdings in crypto while nearly a third have at least 75% of their total investments in blockchain-based assets.
The survey was of 1.5K U.S. residents planning to buy or sell a home in the next 12 months, which was fielded to a representative sample of the American population and conducted by research technology company Lucid from Dec. 10 to Dec. 13, 2021.
"How did you accumulate the money you need for a down payment?" posed to participants who indicated they were planning to buy their first home in the next year - was the focus of the survey wherein only 215 of the total responded.
The most common response was "saved directly from paychecks" (52%), while less common answers included "cash gift from family" (12%) and "pulled money out of a retirement fund early" (10%).
In November, the first ever commercial property in NY was put on the market for digital coin; Magnum Real Estate was selling three retail condos complete with a fully rented-out retail bottom floor in Manhattan's upper East side for $29M — but will only accept Bitcoin.
Real estate brokerage SERHANT believes that people have created so much crypto asset wealth that they're able to put down 50% to 70% of the purchase price using cryptocurrency. Then they'll finance the remaining amount because the remaining amount is now so small, cited by Yahoo Finance.
Serhant predicts that within the next five years, 50% of real estate transactions in the U.S. will be done in some way, shape, and form with cryptocurrency.