Netflix call: Business still healthy, more 'Squid Game' ahead; shares slide 20%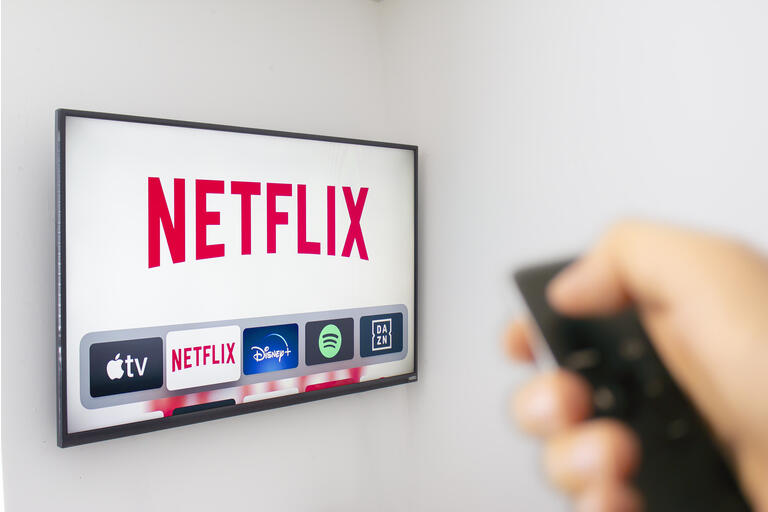 Netflix shares are taking a rout,

off a full 20%

after hours following earnings as the company delivered its post-Q4 executive interview, in which Fidelity's Nidhi Gupta delivered questions (including investor submissions) to

key executives.

A miss on paid subscribers was in investors' focus from the minute the earnings were delivered at the market close - and it was front of mind for Gupta and the management in the call.
"Nidhi, 8.3 million vs. 8.5 million?" joked a smiling co-CEO Reed Hastings of the sub miss, while Chief Financial Officer Spence Neumann characterized the shortfall as "just a bit shy, a tenth of a percent on roughly 222 million paying members."
"Overall, the business was healthy, retention was strong, churn was down, viewing was up," Neumann adds. "On the margin, we didn't grow acquisition quite as fast as we would have liked to have seen." In last quarter's earnings interview the execs suggested the company's subscriber numbers were past COVID-19 "choppiness."
COVID-19 overhang, though, was floated as one reason the execs missed on the forecast.
Hastings stuck to a line he has pursued for some time: Regardless of competition, the pie is getting bigger. The company faces tougher rivals but then it's battled Amazon for 14 years "so it doesn't feel like any qualitative change there - and overall, confidence in streaming becomes all of entertainment, linear dissipates over the next 10-20 years ... everyone's coming into streaming."
The company raised prices in its home markets of the U.S./Canada for the first time in a few years. Does the company feel any price constraints from its growing competition? There's no price target for any given country, Chief Product Officer/Chief Operating Officer Greg Peters says; "mostly, we're listening to our members, and iteratively doing this walk where ... engagement, and churn, and acquisition ... are our signal that we're doing a good job ... and that it's a right time to ask a little more to keep that going."
As the conversation turned to global content, in unsurprising announcements, the execs confirmed that there would be a second season of its biggest-ever hit, Korean-made Squid Game - "absolutely," co-CEO Ted Sarandos says. "The Squid Game universe has just begun!" But Netflix is launching more than 20 new shows in South Korea as well.
Updated: The games/products question comes up - Netflix has signaled big ambitions but so far has dabbled in a few casual games on the service - and Hastings says the company is still building toward what it can do with franchises. "We're building those muscles steadily with our consumer products, like the Squid Game tracksuits, and we're making a big push on experiences, that are mobile and portable and people can set up quickly. Obviously the gaming muscle we're very young on." But in a few years those will be "strong muscles, and then you think of the next Bridgerton or Squid Game coming through." It's already working, but is about 20% of what it will be in a few years, he says.
The company's open to buying its way into some big-game intellectual property, Peters says. But there's a "multi-year opportunity" in building something out of whole cloth, he adds. "The eyes we have on the long-term prize really center more around our ability to create properties that are connected to the universes, the characters, the stories we're building ... and magnify that value for the fans."
Guidance for lower margins is more about foreign exchange than any lower expected levels of revenue, Neumann says. The company was over-delivering on margins in the past couple of years, and the FX moves have been coming over the past six months, he says. "We will catch back up; we're still committed to roughly three points of margin increase over any few-year period."
Finally, on the question of free cash flow and capital return, Neumann says it's a big milestone to be cash-flow positive. "Our top priority is to be responsible stewards of the business" and invest strategically, first organically. But then, "what's left over after that, we're not going to sit on excess cash ... our capital allocation plan is as it's been," to have roughly two months of revenue in the form of balance sheet cash and return the rest to shareholders "opportunistically," he says noting up to $5 billion in repurchase authorizations.