Boeing hit with big Q4 loss but surprises with positive cash flow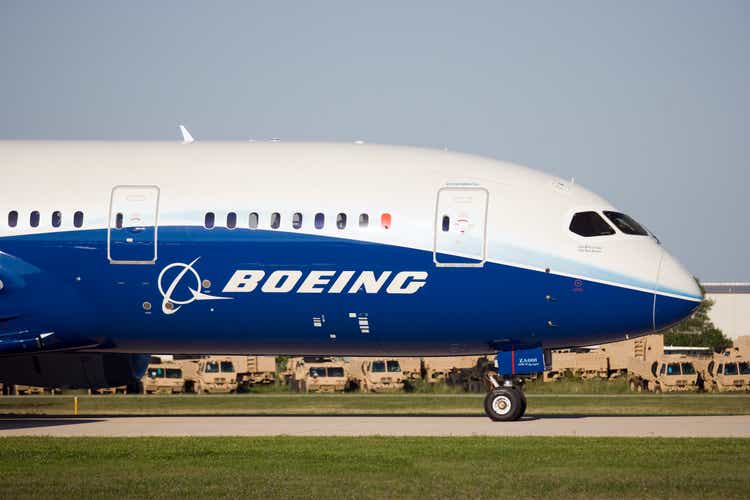 Boeing (NYSE:BA)

+2%

pre-market despite posting a much wider than expected Q4 loss while also missing revenue estimates, but cash flow came in surprisingly positive.
Boeing's Q4 net loss fell by half to $4.14B from $8.42B in

the prior-year period, but it took a $3.5B charge to cover additional delays in 787 jetliner deliveries and compensation for airlines that are still waiting to get their planes.

The company also said problems with the 787 will add $2B in unusual production costs, double the previous forecast.
Q4 revenues fell 3.3% Y/Y and 3.2% Q/Q to a below-consensus $14.79B.
Q4 sales by segment: Defense, Space and Security -14% Y/Y to $5.86B, a wide miss against $6.83B analyst consensus; Commercial Airplanes +0.5% to $4.75B, also well below $5.58B consensus; Global Services +15% to $4.29B, roughly in-line compared to $4.18B consensus.
Q4 operating cash flow swung to positive $716M from negative $4B in the year-ago quarter, while Wall Street was looking for negative $429M; free cash flow also swung to positive $494M from negative $4.27B a year earlier.
Total company backlog at the end of Q4 was $377B, +3.9% Y//Y.
For the full year, Boeing lost $4.29B, its third annual loss in a row, but the company lost $11.94B in 2020.
"2021 was a rebuilding year for us as we overcame hurdles and reached key milestones across our commercial, defense and services portfolios," CEO David Calhoun said.
Boeing previously reported 99 total commercial airplane deliveries in Q4, lifting aircraft deliveries for the full year to 340.