Fund manager shorting Cathie Wood says 'nothing personal' in anti-ARKK product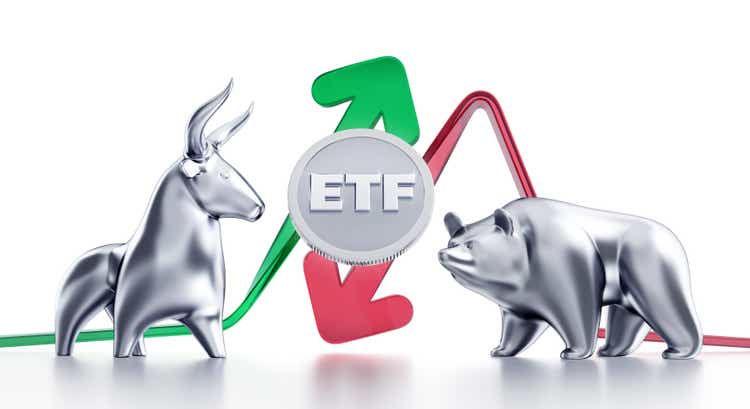 Fund manager Matthew Tuttle said Monday that there was "nothing personal" in his decision to create an ETF that shorted Cathie Wood's iconic ARKK fund, which became popular during 2020 and 2021 for backing high-growth disruptive tech stocks.
"I have great respect for ARK [Invest] and what they've done," the chief executive and chief investment officer of Tuttle Capital Management told CNBC.
Tuttle Capital Management launched its anti-ARKK ETF (NASDAQ:SARK) in November.
Tuttle, who said he has not contacted Wood or her team about the product, argued that ARKK's ETF products developed a new stock grouping, which some investors might want to short. He contended that his product was simply a means to fill that market.
"They've created a whole new sector really -- you know, speculative technology, unprofitable technology, whatever you want to call it. And there's really no tool out there for investors to express a bearish view on that sector," Tuttle said.
Wood came to prominence with her ARK Innovation ETF (NYSEARCA:ARKK), which focused on technology stocks that she and her team saw as poised to disrupt their respective markets. Wood's ARK Invest firm also has a series of other funds focused on particular subgroups, like ARK Next Generation Internet ETF (NYSEARCA:ARKW), ARK Space Exploration & Innovation ETF (BATS:ARKX) and ARK Autonomous Technology & Robotics ETF (BATS:ARKQ).
With the boom in speculative tech during 2020 and the first part of 2021, ARKK rallied more than 200% from the end of 2019 until the middle of February 2021, as you can see from this chart.
However, the ETF has fallen precipitously recently, dragged down by fears that higher interest rates will squeeze the valuations for unprofitable speculative bets. Since mid-February of 2021, ARKK has dropped nearly 56%, including a retreat of about 27% so far in 2022.
Structured to mirror the ARKK fund, moving up when Wood's ETF heads lower and vice versa, SARK has performed well since its November launch. The ETF has climbed nearly 61% during that time, as seen in this chart.
For more on the prospects for both SARK and ARKK, read a deep dive on the subject by SA contributor Leslie Osmond.