Clorox down 9% on narrowing sales, margins and bleak outlook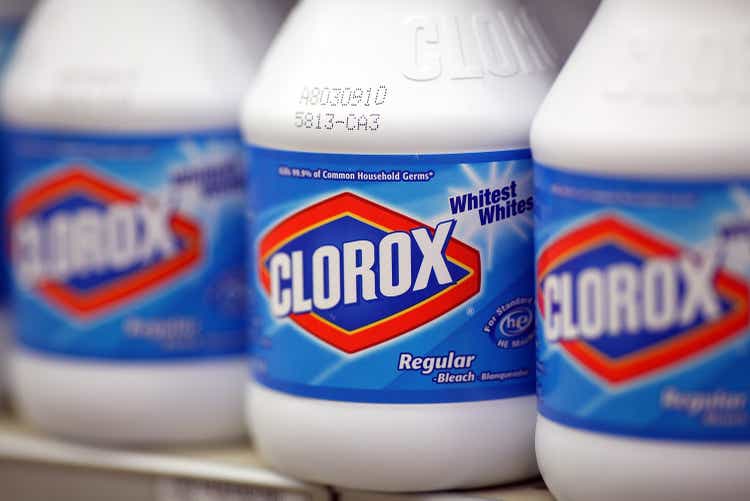 Clorox (NYSE:CLX)

trades 8.5% down after hours

on reporting a drop of 8% in FQ2 net sales to $1.7B compared to a 27% increase in the year-ago quarter, or an increase of 19% on a two-year stack basis.
Gross margin narrowed 1240 basis points to 33% driven by higher manufacturing & logistics and commodity costs.
Segment-wise:
Health and Wellness net sales were down 21% led by lower shipments volume in Cleaning and Professional Products.
Household net sales increased 3%.
Lifestyle net sales were higher by 2%.
International net sales remained flat.
Diluted net EPS plunged 72% to $0.56 led by lower gross margin and lower net sales.
YTD, net cash provided by operations declined 65% to $222M, compared to $629M in the year-ago period.
In January last week, the stock was downgraded to Underperform from Neutral at Credit Suisse basing on "upside from the shift in consumer behavior toward health, wellness, hygiene and more time at home as largely priced in. Some of the pandemic sales benefit is seen fading."
FY22 Outlook: Net sales decline of 1% to 4% which reflects a sales decline of 7% in 1H22 compared to 27% sales growth in 1H21; by Q4, company expects sales to return to its long-term sales growth target of 3% to 5%; gross margin decline of ~750 points; diluted EPS between $3.80 and $4.05 (decrease of between 32% and 27%) and adj. EPS between $4.25 and $4.50 (decrease of between 41% and 38%).
Analysts' consensus estimate for FY sales stands at $7.1B (-3.1% Y/Y) while EPS is seen at $5.44 (-25% Y/Y).