Druckenmiller's Duquesne adds Willscot Mobile Mini, exits Nektar Therapeutics
Feb. 14, 2022 4:13 PM ET
WillScot Mobile Mini Holdings Corp. (WSC), NKTR
SNAP, FTCH, FWONK, CPNG, PRCT, FLEX, SBUX, EXPE, RETA, ON, PLTR
By:

Liz Kiesche,

SA News Editor
4 Comments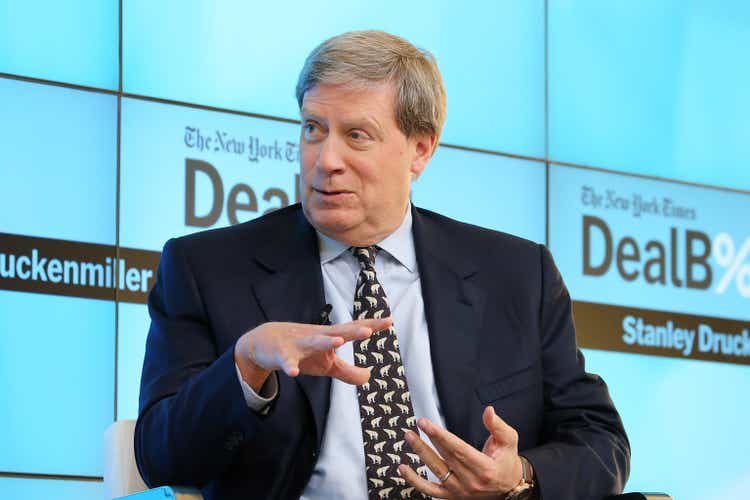 Stanley Druckenmiller's Duquesne Family Office takes new positions in WillScot Mobile Mini Holdings (NASDAQ:WSC) with a 1.50M stake, Snap (NYSE:SNAP) with 1.44M shares, and Chevron with 824K shares, according to the firm's latest 13F.
It

exited Nektar Therapeutics

(NASDAQ:NKTR)

, Farfetch

(NYSE:FTCH)

, and Formula One Group

(NASDAQ:FWONK)

.

Increased stakes in Coupang (NYSE:CPNG) to ~17.8M shares from 15.5M shares, and Procept Biorobotics (NASDAQ:PRCT) to 1.66M shares from 600K, and Flex Ltd (NASDAQ:FLEX) to 2.54M from 1.53M shares.
Reduced holdings in Starbucks (NASDAQ:SBUX) to ~362K shares from ~2.11M shares, Expedia (NASDAQ:EXPE) to 154K shares from 914.3K, and Reata Pharmaceuticals (NASDAQ:RETA) to 406K from 695K.
In Q3, Duquesne added Coupang (CPNG), exited ON Semiconductor

(NASDAQ:

ON).