Coinbase stock whipsaws lower after poor Q1 guidance amid crypto slump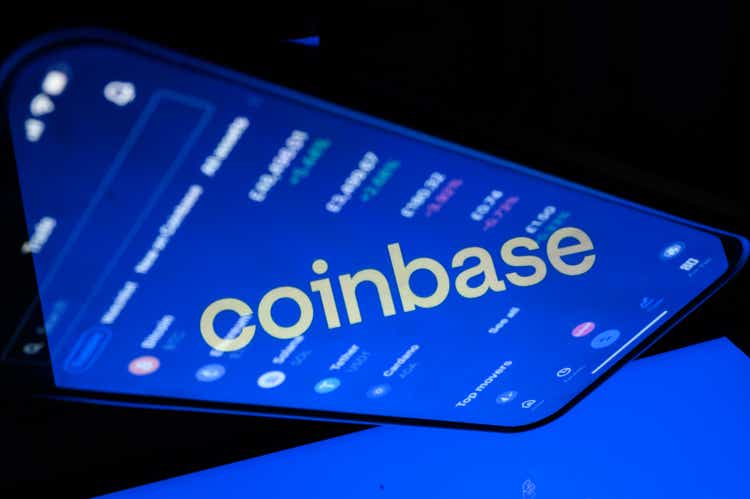 Coinbase Global (NASDAQ:COIN) shares nosedived

6%

during afterhours trading Thursday following disappointing guidance for retail user growth and trading volume. The stock initially spiked

~13%

within minutes of the earnings release following better-than-expected Q4 results.
It expects subscription and

services revenue to decrease in Q1 due to recent crypto asset declines.

For 2022, the company forecasts average retail MTUs of 5.0M-15.0M vs. 8.4M in 2021. It sees average net transaction revenue per user at pre-2021 levels compared with $64 last year.
The company sees 2022 transaction expenses in the low 20% range, up from 17% in 2021, driven by growth in Blockchain Rewards revenue.
Anticipates 2022 technology and development and G&A expenses, excluding stock-based compensation, at $4.25B-5.25B vs. $1.41B in 2021.
Q4 net revenue of $2.49B, beat the $1.81B consensus and climbed from $1.08B in Q3.
Q4 EPS of $3.32 also beat the Wall Street estimate of $1.95 and jumped from $0.66 in the same period a year ago.
Q4 MTUs of 11.4M expanded from 7.4M in the third quarter. Q4 trading volume of $547B from $327B in the prior quarter.
Q4 retail trading volume of $177B surged from $93B in Q3 and from $32M in Q4 2020. Institutional trading volume of $371B from $234B in Q3 and from $57B in Q4 2020.
Conference call at 5:30 p.m. ET.
In mid-February, Coinbase introduces way for recipients in Mexico to cash out crypto in local currency.