State of the Union: Biden says Putin was `wrong' and will `pay a price' for invasion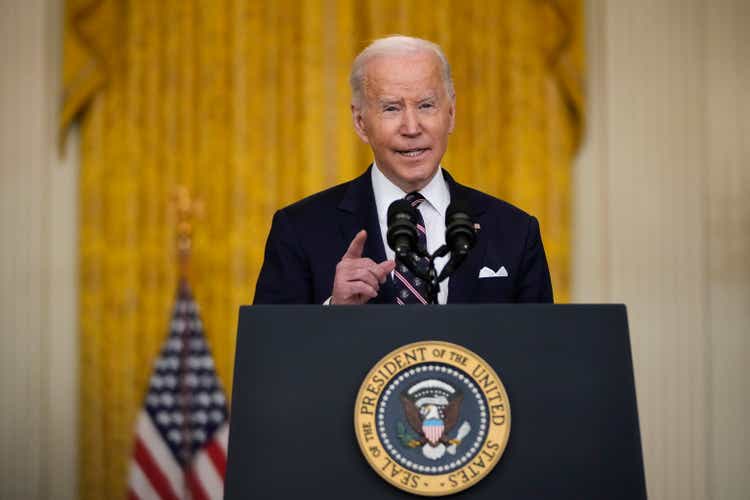 President Biden said that Vladimir Putin will have to "pay a price" for Russia's invasion into Ukraine at his first State of the Union address to Congress.
"Throughout our history we've learned this lesson – when dictators do not pay a price for their aggression, they cause more chaos," Biden said in the first moments of the speech. "They keep moving. And, the costs and threats to America and the world keep rising."
Biden announced as part of the U.S. response to the Russian invasion that the U.S. is closing its airspace to Russian planes.
Putin's war "was premeditated and unprovoked," Biden said. "He rejected efforts at diplomacy. He thought the West and NATO wouldn't respond. And, he thought he could divide us here at home. Putin was wrong. We were ready."
Biden added that the U.S. Department of Justice is assembling a task force to go after the alleged crimes of the Russian oligarchs.
"We are joining with European allies to find and seize their yachts, their luxury apartments, their private jets," Biden said. "We are coming for you."
Biden vowed to fight inflation during the speech. Consumer prices over the past 12 months have jumped by 7.5% amid soaring inflation at the grocery store, as well as the gas pump.
"My top priority is getting prices under control," Biden said.
"Lower your costs, not your wages," Biden added. "Make more cars and semiconductors in America. More infrastructure and innovation in America. More goods moving faster and cheaper in America. More jobs where you can earn a good living in America. And, instead of relying on foreign supply chains, let's make it in America."
Biden announced that the U.S. and its allies will release 60 million barrels of oil from reserves, including 30 million from U.S. Strategic Petroleum Reserve.
Biden said under his infrastructure plan, the U.S. will start fixing 65,000 miles of highway and 1,500 bridges this year.
Biden called for the price of prescription drugs to be reduced and for the price of insulin to be capped at $35 a month. He also called for Medicare to negotiate the price of prescription drugs. Biden also advocated for a plan to reduce the cost of childcare and he wants minimum wage to be raised to $15 an hour.
"Drug companies will do very well with their profit margins," Biden said. "While we are at it, I know we have great disagreements on this floor. Let's let Medicare negotiate the price of prescription drugs."
Biden also vowed to crack down on foreign carriers moving goods in and out of America, claiming that these foreign carriers raised prices by as much as 1,000% during the pandemic.
"Tonight, I am announcing a crackdown on companies overcharging American businesses and consumers," Biden said.
Biden argued that his policies won't raise taxes on anyone "earning less than $400,000 a year."
"I may be wrong, but my guess is if we took a secret ballot on this floor, that we would all agree that the present tax system ain't fair," Biden added.
Biden said the U.S. is ready to deploy new vaccines if another variant of Covid were to emerge, saying the U.S. could deploy a vaccine within 100 days.
"Over the past, we have gotten much better at detecting new variants," Biden said. "If necessary, we'll be able to develop new vaccines within 100 days instead of maybe months or years."
Biden addressed concerns about social media and bullying and said that social media platforms "must be accountable for the national experiment they're conducting on our children for profit." He also said tech companies need to "stop collecting personal data on our children."
Biden also advocated for a plan to "supercharge" the "cancer moonshot" that President Barack Obama introduced six years ago with a goal of cutting the cancer death rate by at least 50% over the next 25 years. He called on Congress to fund ARPA-H, the Advanced Research Projects Agency for Health. The agency will be patterned after DARPA, the Defense Dept. project that led to the Internet and GPS.
"We are stronger today than we were a year ago," Biden said in the conclusion to the just over hour long speech. "And we will be stronger a year from now than we are today. This is our moment to meet and overcome the challenges of our time."