Will strong comps drive Costco's FQ2 2022 Earnings pushing the stock closer to 52-week high levels?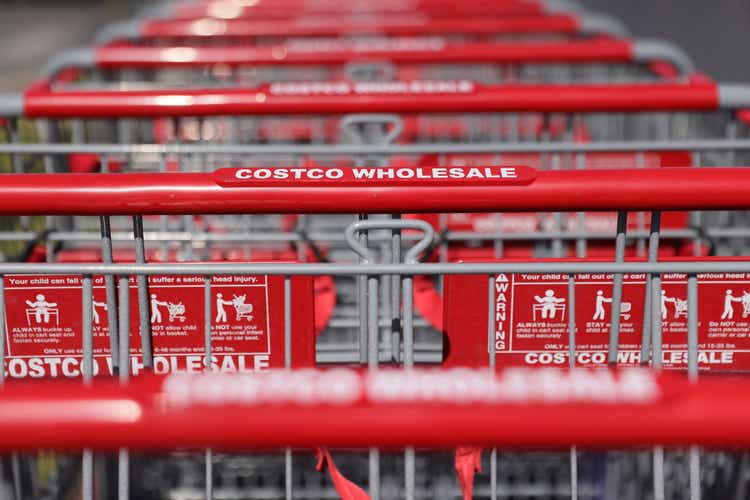 Costco (NASDAQ:COST) is scheduled to announce FQ2 earnings results on Thursday, March 3rd, after market close.
The consensus EPS Estimate is $2.72 (+27.20% Y/Y) and the consensus Revenue Estimate is $51.4B (+14.8% Y/Y).
Over the

last 2 years, COST

has beaten EPS estimates

75% of the time and has beaten revenue estimates 100% of the time.

Over the last 3 months, EPS estimates have seen 14 upward revisions and 2 downward. Revenue estimates have seen 20 upward revisions and 1 downward.
The company's strategy to sell products at discounted prices has helped draw customers, decent membership trends and increasing penetration of e-commerce business - contribute to the quarter's performance.
In early February, Evercore ISI analyst Greg Melich's numbers dived: "The 2-year global core comp (+26.5%) & the U.S. core comp (+25.9%), accelerated +410bps & +340bps sequentially. Comp traffic decelerated 40bps to +9.4%, but accelerated +280bps on a 2- year basis."
For January, Costco reported sales growth of 15.5% to $15.76B in January; 9.5% jump in the U.S. comparable sales was far ahead of the consensus expectation for a rise of 6.4%.
The company has a strong dividend record with 13% CAGR and pays out $1.4B annually; latest dividend paid in January 2022 stood at $0.79/share.
Also with food inflation spiking up 7.4% in January on top of the 3.7% gain that was recorded in 2020, retailers like Costco could see a net positive impact from food inflation if things go right.
SA Contributor BeanKounter Capital indicates that despite Costco being the best of breed, it's too expensive; another contributor Paul Franke with a Sell rating says that Costco is the most overvalued mega-cap in America.
Of the 35 Wall Street Analysts covering the stock, 16 analysts have a Strong Buy rating on the stock while 10 have a Hold and 8 have assigned a Buy rating.