BJ's Wholesale Club misses Q4 revenue estimates, comp sales report higher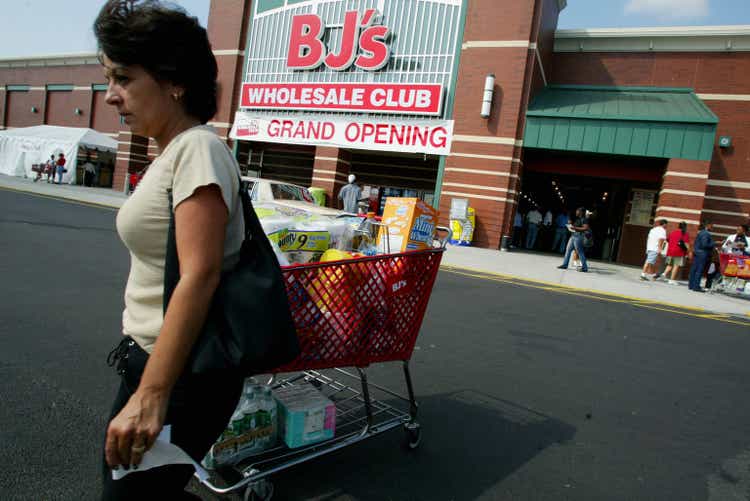 BJ's Wholesale Club (NYSE:BJ) trades 14% down on missing Q4 revenue estimates significantly.
Gross profit increased to $797.2M from $742.6M in year ago quarter; merchandise gross margin rate, which excludes gasoline sales and membership fee income, increased 10 basis points.
Operating income increased to $157.1M compared to $144.7M in year ago quarter.
Adj. EBITDA increased 11.8% to $228.6M.
Net cash provided by operating activities stood at $98.5M.
In November, the company board approved a new share repurchase program enabling the repurchase up to $500M of its outstanding common stock; in FY21, it has repurchased 3.3M shares totaling $179.2M, includes 2.88M shares totaling $150.4M under earlier approved repurchase program which expired in 4Q21.
FY22 Outlook: Merchandise comparable club sales to increase in the low-single digit range; net sales to increase in the mid-single digit range; membership fee income to grow in the mid-single digit range; Merchandise margins to remain flat Y/Y; EPS to remain flat after giving effect to the pending Burris acquisition of assets; capex of ~$350M.
The Burris deal is expected to close in Q2 and will yield ~$0.07 in EPS.
Separately, the company announced that it is continuing its expansion by opening four new clubs, the first phase of its 2022 development plans; new clubs in Florida, Michigan and New York will feature an extensive selection of fresh foods, a full-service deli and household essentials.
In early February, BJ's Wholesale attracted bull rating from Deutsche Bank based on attractive valuation ahead of its earnings.