Ukraine War Update: Fitch cuts Dutch telecom Veon to junk status due to Russia exposure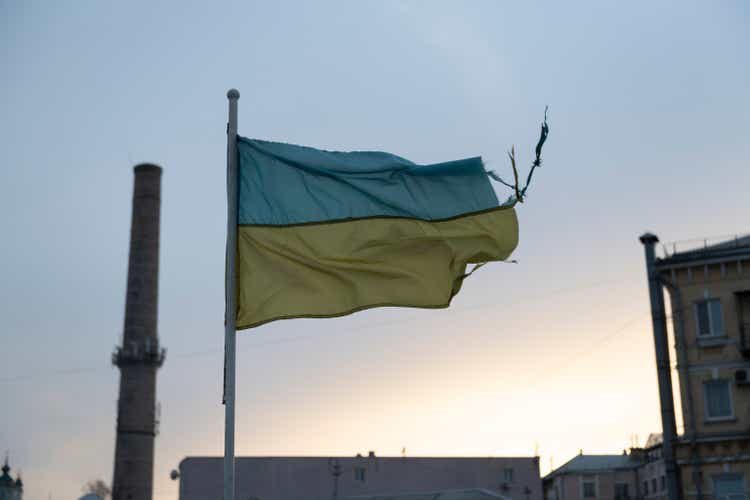 Update: 3:49 p.m. ET: Fitch has dropped its rating on Dutch-based telecom Veon (NASDAQ:VEON) down to junk status due to the company's heavy exposure to Russia and Ukraine. Standard & Poor's also cut Veon's rating

further into junk territory.

Update 3:21 p.m. ET: Citigroup (NYSE:C) announced that it's expanding plans to exit Russia. The banking giant previously disclosed that it would be winding down its Russian consumer business due to the Ukraine War, but said Monday that it will also review exiting other business lines as well. Meanwhile, Deutsche Bank (NYSE:DB) is rallying in part on word that it's also departing Russia after previously indicating that it wouldn't do so.
Update 1:16 p.m. ET: The U.S. has told its allies that China has signaled a willingness to provide military assistance to Russia to support its invasion of Ukraine, the FT reported, citing officials familiar with diplomatic cables.
Update 12:08 p.m. ET: "The war in Ukraine has already caused a terrible human toll," the BlackRock Investment Institute said in a note. "We see it extracting a heavy economic price as well, mostly via higher energy costs. This is a major supply shock layered onto an existing one, and we see it resulting in higher inflation and lower growth, especially in the euro area."
"This puts central banks in a bind: Trying to contain inflation will be more costly, and they can't cushion the growth shock. We prefer developed equities in this inflationary environment."
"What does this mean for investment? We prefer to take risk in DM equities against the inflationary backdrop of negative real bond yields. We expect the global energy shock to hurt corporate earnings, especially in Europe. Recent market declines reflected this, we believe, and the region's stocks are highly geared toward global growth. We stay underweight government bonds. They are losing their diversification benefits, and we see investors demanding greater compensation for holding them amid higher inflation and larger debt loads. Within the asset class, we prefer short dated and inflation-linked bonds."
Update 11:56 a.m. ET: A Ukrainian negotiator says that peace talks with Russia have been paused until Tuesday.
Update 11:51 a.m. ET: Eiger (NASDAQ:EIGR) extends gains with no impact to trials in Russia and Ukraine.
Update 10:48 a.m. ET: Commodity ETFs moderate after spikes.
Talks between Russia and Ukraine continue, but on the ground Russia continues to shell Kyiv. An airstrike on a base in Yavoriv, less than 10 miles from the Polish border, killed at least 35 people.
The Kremlin said today its "Ukraine operation" will be completed "on schedule," according to Bloomberg, although it's unclear what the schedule is.
Oil prices (CL1:COM) are falling, with WTI down more than 7%, below $102 per barrel. Prices came under pressure after some hope of diplomatic progress over the weekend.
McDonald's (NYSE:MCD) was recommended at Oppenheimer, which says the Ukraine-Russia risk is priced in.
ArcelorMittal (NYSE:MT) says $4.1B in sales in Ukraine are at stake.
Dear Readers: We recognize that politics often intersects with the financial news of the day, so we invite you to click here to join the separate political discussion.