Ukraine War Update: Zelensky legalizes crypto as $100M of donations pour in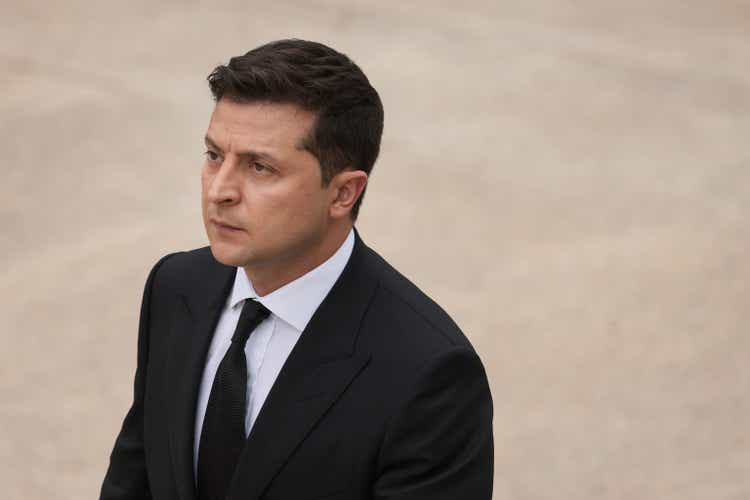 Here are the latest headlines in the Russia-Ukraine crisis:
Ukrainian President OKs Crypto as Donations Roll In
Ukrainian President Volodymyr Zelensky signed legislation Wednesday to legalize cryptocurrency within the embattled country at a time when the nation has received some $100M in crypto donations from around the world to help fight off Russia's invasion.
Kiev's Ministry and Committee for Digital Transformation of Ukraine wrote in a blog post that the move means foreign and Ukrainian cryptocurrencies exchanges "will operate legally, and banks will open accounts for crypto companies."
Biden Promises More Weapons Assistance
President Joe Biden promised more arms for Ukraine in the latest $800M assistance package, which includes: 800 anti-aircraft systems, 9,000 anti-armor systems, 7,000 small arms, 20 Million rounds, unmanned aerial systems.
"The assistance will take the form of direct transfers of equipment from the Department of Defense to the Ukrainian military," the White House said.
Russia, Ukraine Make Progress on 15-Point Peace Plan
Update: U.K. newspaper The Independent says Ukraine has rejected a proposed neutrality compromise.
"Russian negotiators said Ukraine offered to become a demilitarised state but Kyiv denied this and said Ukraine needed 'legally verified security guarantees' to keep it safe and would not accept any other model," the paper said.
The article did not specifically mention the 15-point plan reported below by the Financial Times.
#####
Russia and Ukraine are moving forward on a tentative 15-point plan that would result in a ceasefire and Russia's withdrawal, the FT reports. Kyiv would declare neutrality and accept limits on its armed forces, the paper says, citing three people involved in talks.
The nature of Western guarantees for Ukrainian safety and what Russia would find acceptable and territories seized by Russia could prove to be obstacles, the paper said.
Ukrainian officials remain skeptical that Vladimir Putin is committed to peace rather than buying time, the FT added.
Zelenskyy Presses Congress for Harsher Economic Penalties
Ukrainian President Volodymyr Zelenskyy received a standing ovation from Congress as he addressed lawmakers by video. He called for more sanctions and a block of imports. He also appealed for a no-fly zone and showed a graphic video of the toll on Ukraine from the invasion.
Zelenskyy Calls Russian Negotiating Positions 'More Realistic'
Ukrainian President Volodymyr Zelenskyy described Russian positions in peace talks as "more realistic" than previous meetings. He also urged patience as officials prepared to return to the negotiating table.
Ukraine President to Address U.S. Congress
Volodymyr Zelenskyy's livestreamed address Wednesday into the U.S. Capitol will be among the most important in a unique and very public strategy in which he has invoked Winston Churchill, Hamlet and the power of world opinion in his fight to stop Russia, the AP says.
Russia Default Looms
Russia today faces an interest payment of $117M on two dollar-denominated bonds, and while it has the money to make the coupon, sanctions are hampering its ability to execute a transfer.
Dear readers: We recognize that politics often intersects with the financial news of the day, so we invite you to click here to join the separate political discussion.