IMF slashes growth forecast to 3.6% as Russia-Ukraine crisis impacts global economy
International Monetary Fund (IMF) indicates that while the Ukraine war has not only led to a humanitarian crisis but it has led to a significant slowdown in global growth in 2022 and add to inflation.
Leading the pack are the

fuel and food prices which have increased dramatically denting low-income countries hardest.

Global growth is projected to slow from an estimated 6.1% in 2021 to 3.6% in 2022 and 2023; this is 0.8 and 0.2 percentage points lower for 2022 and 2023 than projected in January.
Growth projections region-wise: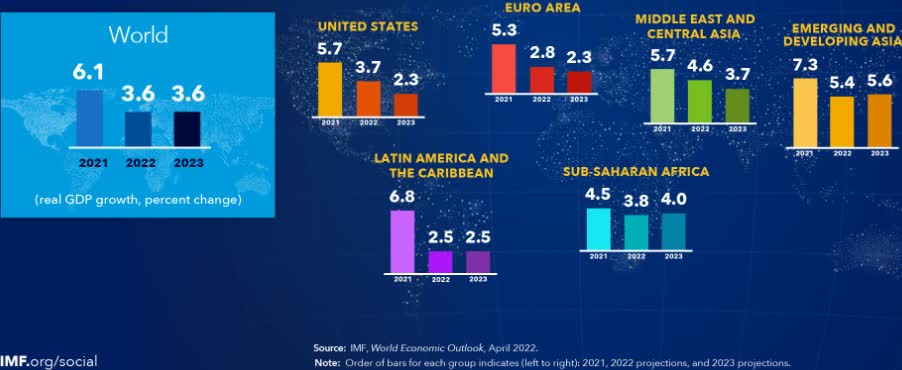 Beyond 2023, global growth is forecast to decline to about 3.3% over the medium term.
For 2022, inflation is seen at 5.7% in advanced economies and 8.7% in emerging market and developing economies—1.8 and 2.8 percentage points higher than projected last January.
Global activity indicators: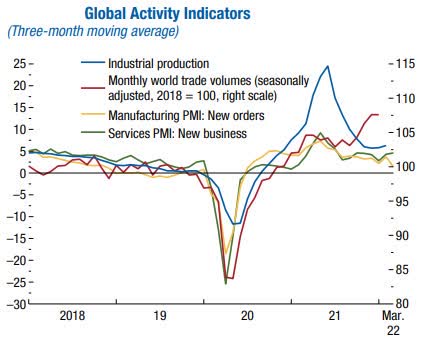 IMF estimates the inflation rate will reach 7.7% in U.S. this year and 5.3% in the euro zone.
IMF sees Russian economy to fall by 8.5% this year and by 2.3% in 2023; Ukrainian economy is expected to contract by 35%.
The U.S. Federal Reserve expects to hike interest rates six more times in 2022, while the European Central Bank confirmed last week it is ending its asset purchase program in Q3.