Federal Reserve's Powell: Faster removal of policy accommodation is appropriate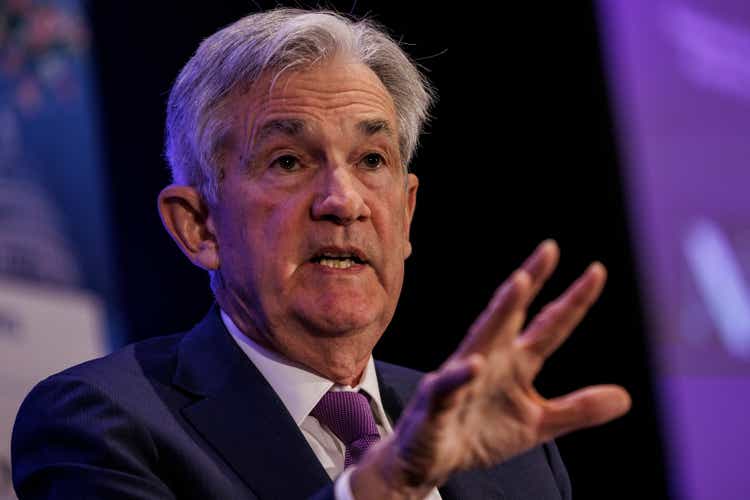 "It is appropriate to move more quickly" than in the last tightening cycle to remove monetary accommodation, Federal Reserve Chair Jerome Powell said during an IMF debate on the global economy.
50 basis-point hikes are "on

the table," particularly for the May meeting, he added.

"Many on the (FOMC) committee" at the March meeting were considering one or more 50-bps hikes this year, he added. Powell declined to say where he weighed in in that discussion.
Update at 1:40 PM ET: "We're going to be raising rates and expeditiously getting to neutral," Powell said. The Fed will then tighten policy if required to get inflation under control, he added.
Note that the CME Fed Watch Tool now has a 50bps hike at a 99.8% for the May meeting. For the June meeting, the probability of a 75bps hike stands at 69.9%.
European Central Bank President Christine Lagarde gave no indication of when she expects the ECB will raise rates. "To be fixated on a time or day doesn't make any sense to me," she said. Rather, the ECB seeks to be data dependent in making those decisions.
2:04 PM ET: Asked about whether globalization is reversing, Powell said, "It's not clear that we're seeing a reversal of globalization. It may be slowing."
He warned that less globalization is likely to increase inflation and to reduce productivity.
2:12 PM ET: Event ends.
Previously (April 18), St. Louis Fed President James Bullard, perhaps the Fed's biggest hawk, said the fed funds rate should be pushed up to at least 3.5% by the end of the year.