Spirit Airlines sale to JetBlue or Frontier would be a boon for the industry, analyst says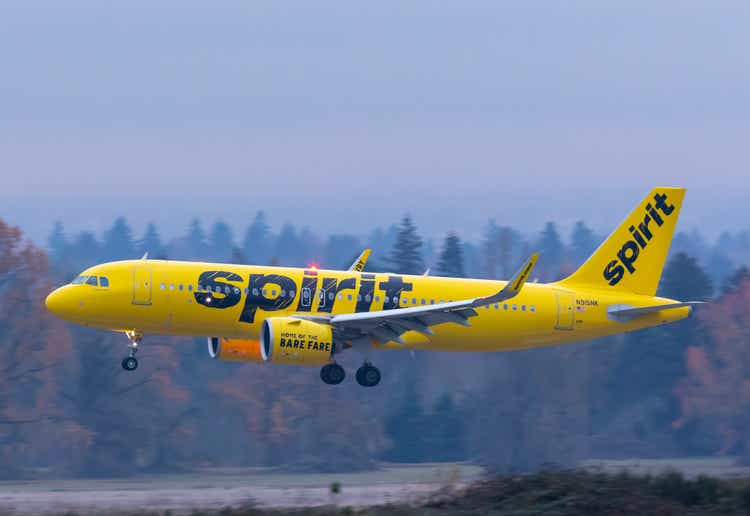 A sale of Spirit Airlines (NYSE:SAVE) to either JetBlue Airways (NASDAQ:JBLU) or Frontier Group (NASDAQ:ULCC) would likely benefit the airline industry, according to a JPMorgan analyst.
"We've identified Spirit as a rogue nation, sorta the North Korea if you will, so the removal of that regime, to keep the analogy going, could potentially benefit the industry," JPMorgan analyst Jamie Baker said in an interview with CNBC on Friday. "It's not something we are relying on heavily at this point. It would be nice if it happens, we'll see what the Justice Department has to say."
Baker's comments come as U.S. antitrust officials will have to decide if they will allow Frontier's (ULCC) announced acquisition of Spirit (SAVE) or at some point they will be charged with opining on JetBlue's (JBLU) bid for Spirit after Spirit decides which deal it will ultimately take.
Earlier this month Spirit Airlines (SAVE) said it planned to enter talks with JetBlue (JBLU) after deeming its $33/share all-cash offer likely to lead to a "superior proposal" over Frontier's (ULCC) stock and cash deal.
While Baker didn't outright say why the elimination of Spirit would benefit the airline sector, one implication may be that the absence of the low cost carrier may benefit pricing for the airlines. While rival airlines may like this, the task of the Justice Dept. is to partly to decide how a merger impacts consumers.
Last month legislators including Sen. Elizabeth Warren (D-MA), Bernie Sanders (I-VT) and Rep. Alexandria Ocasio-Cortez (D-NY) called for the Justice Dept. to further investigate Frontier Airlines (ULCC) planned $2.9B purchase of Spirit Airlines (SAVE) to see if would hurt competition.
"There are serious risks that a Spirit-Frontier combination would further concentrate and even monopolize the ultra-low-cost carrier segment of the industry, rather than create a meaningful fifth competitor to the `Big Four,'" the legislators wrote in a letter to DOJ antitrust chief Jonathan Kanter and Transportation Secretary Pete Buttigieg.
Spirit Airlines (SAVE) earlier this month said it received a request for more information from the U.S. Dept. of Justice in regards to its merger with Frontier (ULCC). A second request from the DOJ was expected for a "transaction of this nature," Spirit said at the time.
Frontier (ULCC) has said a combination of JetBlue (JBLU) and Spirit (SAVE) would raise fares and limit flight options, while JetBLue has argued that "customers shouldn't have to choose between a low fare and a great experience, and JetBlue has shown it's possible to have both," Robin Hayes, JetBlue CEO, said in a statement earlier this month."
"It's really up the Justice Department at this point," Baker, who has an neutral rating on Spirit, told CNBC. "We don't need Spirit to merge with anybody to achieve the earnings forecast (for the industry) that I have right now. It certainly interests me, but it doesn't greatly influence the investment narrative we have right now."
Baker's comments come as Frontier (ULCC) is scheduled to report earnings on Wednesday and hold a conference call after the close where investors may get an update on the Spirit (SAVE) transaction.