Retail ETFs rise as investors focus on April retail sales data, shrug off Walmart earnings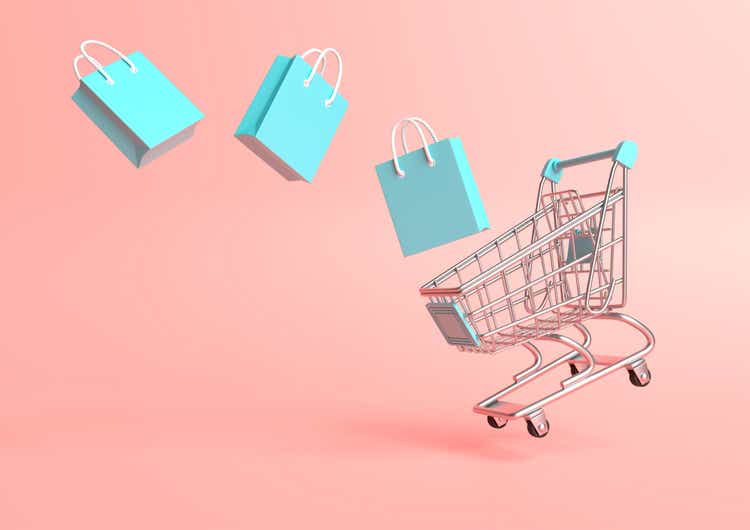 Exchange traded funds related to the retail sector generally saw gains in Tuesday's early trading, as investors focused on better-than-expected monthly retail sales statistics rather than shaky earnings released by industry heavyweight Walmart (WMT).
As the opening bell rang, funds such as the SPDR S&P Retail ETF (NYSEARCA:XRT) gained 1.5%, while the VanEck Retail ETF (NASDAQ:RTH) remained unchanged.
The biggest gains took place in the internet segment, as online retail ETFs saw an early pop. The ProShares Online Retail ETF (NYSEARCA:ONLN) is +4.2%, Amplify Online Retail ETF (NYSEARCA:IBUY) is +4.8%, and the First Trust S-Network E-Commerce ETF (ISHP) is +3.6%.
April retail sales data came in at +0.9% M/M versus the +0.8% expected figure. While up from expectations, sales growth still slowed from the figure of 1.4% seen in March. Retail sales rose 1.7% in February and 2.7% in January.
Shaking up the retail space even further was reports on Walmart (WMT) and Home Depot (HD). WMT slid after a Q1 EPS miss and lowering guidance in the high-expense environment. At the same time HD gained ground on earnings as it characteristically beat earnings and added bullishness to full-year forecasts.
Year-to-date price action: XRT -25.3%, RTH -16.3%, ONLN -43.1%, IBUY -46.3%, and ISHIP -32.9%.
See further retail sales data including year over year figures, as well as additional data on food services, autos, gas stations, and more.