Broadcom said in talks to purchase VMware (update)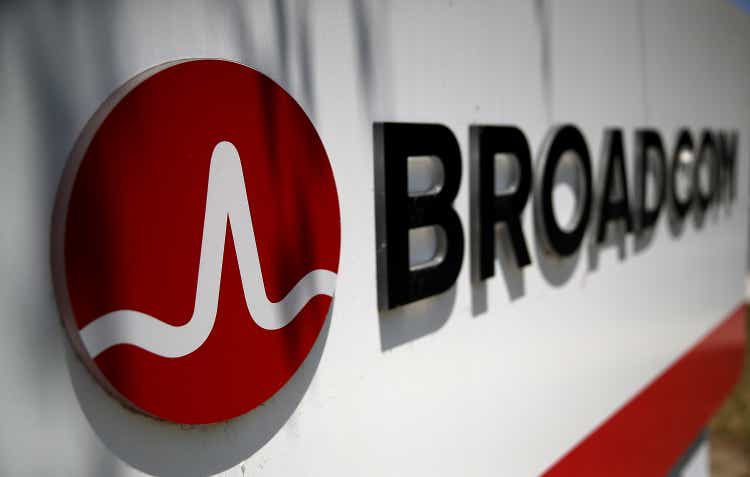 Update 9:25am: Updates shares, add transaction details.
Broadcom (NASDAQ:AVGO) is said in talks to acquire cloud-computing company VMware Inc. (NYSE:VMW). VMW shares surged 19% in premarket trading, while Broadcom fell 4.1%.
Talks are ongoing and could still fall apart, according to a Bloomberg report, which cited people familiar. The companies are discussing a cash and stock deal and an agreement may come soon, according to a WSJ report. The FT reported that deal could be valued at about $50 billion.
A deal could be reached by Thursday, when VMWare (VMW) is scheduled to release its quarterly results, though "material" terms of a transaction still need to be worked out, according to CNBC's David Faber.
VMWware (VMW) has a market cap of about $40 billion, while Broadcom (AVGO) has a market cap of $223 billion.
Broadcom (AVGO) attempted to purchase chipmaker Qualcomm (QCOM) for more than $100 billion in 2017, though withdrew its bid in 2018 after the deal was blocked by the Trump administration on national security concerns.
Dell Technologies (DELL) completed the spin-off of its 81% equity ownership in VMware (VMW) in November. VMware (VMW) distributed a special cash dividend of $11.5B to its VMware shareholders, including Dell, which received $9.3B.
VMware (VMW) is scheduled to report Q1 results on Thursday, while Broadcom (AVGO) is set to release its results on June 2.