Chico's shares charge higher on accelerating sales, strong outlook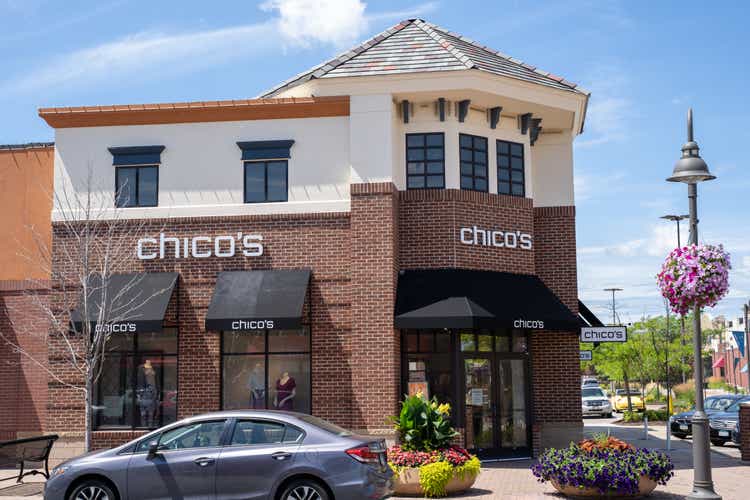 Chico's FAS (NYSE:CHS +5.0%) shares surged on Tuesday as sales soared past estimates for earnings.
The Fort Myers, Florida-based women's clothing retailer reported GAAP EPS of $0.28 for the first quarter, beating estimates by $0.18. Meanwhile, a 39.4% jump in revenue from the prior year to $540.92M came in $50.82M above expectations. The strong results were perhaps most prominently bookended by booming comparable sales that grew 41% from 2021 Alongside the strong sales, margins also expanded by 230 basis points across the business.
"Fiscal 2022 is off to a great start as reflected by a strong first quarter sales beat driven by continued digital and store growth, meaningful gross margin rate expansion and substantially better than anticipated operating income," CEO Molly Langenstein said. "We continue to leverage our proven business model and execute against our strategic pillars and we are seeing the benefits in our results."
She added that the apparel sales were a significant driver in terms of categories, with White House Black Market and Soma brands specifically growing market share substantially.
For the second quarter, a forecast for consolidated net sales in the range of $535M to $550M came in above consensus of $534M while earnings per diluted share of $0.21 to $0.26 also rose above the analyst estimate set at $0.19. For the full year, consolidated net sales of $2.13B to $2.16B likewise came in above the expectation of $2.09B while EPS forecasts of $0.64 to $0.74 came in well above consensus set at $0.46.
Shares rose 6% on Tuesday after the results topped estimates.
Read more on Tuesday's hot stocks.