Soybeans climb to near 10-year highs; corn rises as dry June expected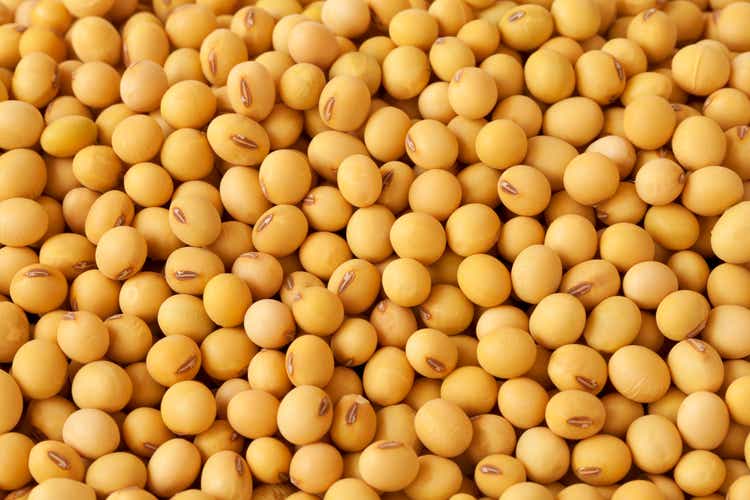 U.S. soybean futures rose to near 10-year highs on Wednesday, as strong demand from both the domestic and export sectors are expected to keep supplies tight until harvest in the fall, Reuters reports.
The most-active Chicago soybean contract (S_1:COM) edged +0.7% to $17.40 per bushel, after peaking at $17.58, and Tom Pfitzenmaier of Summit Commodity Brokerage said fundamentals support the upward move.
"The market is dealing with a tight cash trade, strong domestic crush demand and weather uncertainty along with exports that have already surpassed the USDA's projections," Pfitzenmaier said, according to Dow Jones, although grain traders could decide to take profits ahead of Friday's WASDE report.
Also, corn for July delivery (C_1:COM) closed +1% to $7.64 1/2 per bushel, with traders looking at forecasts for how weather patterns develop in the U.S. later this month, and July wheat (W_1:COM) settled +0.3% at $10.74 3/4 per bushel.
ETFs: (NYSEARCA:SOYB), (NYSEARCA:CORN), (WEAT)
"Traders are increasingly focused on next week's anticipated changing weather pattern," according to StoneX analyst Arlan Suderman, as the jet stream's movement likely will lock in hot and dry conditions in the Midwest, which may stress the corn crop in particular.
Wheat futures surged to start the week, with volatility remaining high in a market still driven by Russia's war in Ukraine.