Vail Resorts rallies after earnings topper, solid guidance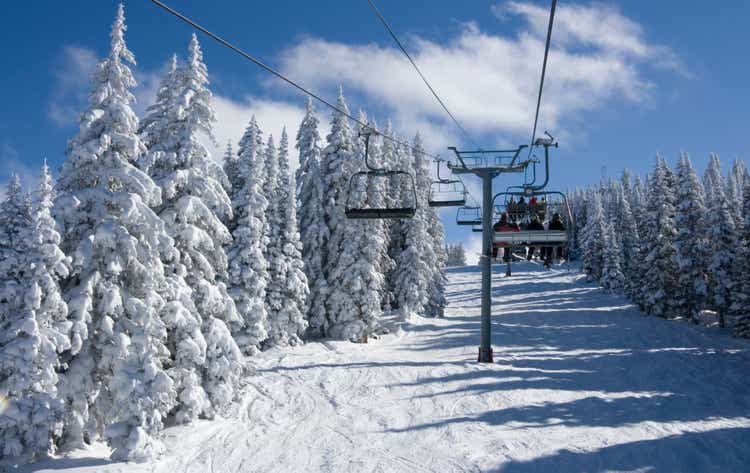 Vail Resorts (NYSE:MTN) reported FQ3 revenue, EBITDA and EPS ahead of consensus marks.
Total lift revenue increased 23.7% to $715M against the soft pandemic comparable from a year ago. Ski school revenue increased 50.4%, dining revenue increased 73.6%, and retail/rental revenue increased 38.6%.
Resort reported EBITDA was $610.5M in FQ3 vs. $462.2M a year ago.
Pass product sales through May 31 for the upcoming 2022-2023 North American ski season increased approximately 9% in units and approximately 11% in sales dollars as compared to a year ago.
Operating expense rose 30.7% in the quarter, which was primarily attributable to increased variable expenses associated with increases in revenue, and the impact of cost discipline efforts in the prior year.
On the balance sheet, MTN ended the quarter with total cash and revolver availability of approximately $2.0B, with $1.4B of cash on hand, $417M of U.S. revolver availability under the Vail Holdings Credit Agreement and $212M of revolver availability under the Whistler Credit Agreement.
Looking ahead, MTN now expects Resort Reported EBITDA to be between $828M and $842M. The guidance range includes an estimated $16M of Resort Reported EBITDA from the recently acquired operations of Seven Springs, Hidden Valley and Laurel Mountain resorts. Net income is expected to land in a range of $314M to $348M vs. a prior expectation for $304M to $350M and the consensus mark of $334M.
Shares of Vail Resorts (MTN) jumped 5.15% in after-hours trading after the earnings topper.