Hot Stocks: Fintechs drop; PTON sets low; BASE rallies on earnings news; PAGS falls; RENN sets high
Jun. 09, 2022 6:16 PM ET
Peloton Interactive, Inc. (PTON)
RENN, PYPL, SQ, PAGS, SOFI, UPST, AFRM, BASE
By:

Brian Stewart,

SA News Editor
2 Comments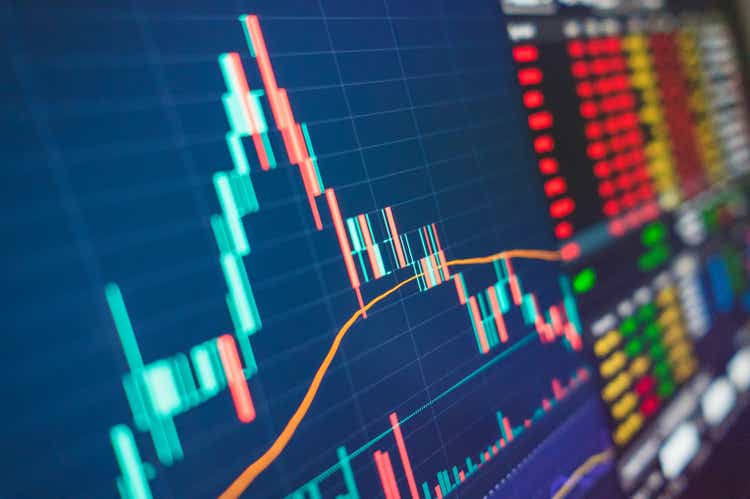 Another choppy session descended into a selling spree on Thursday, with a late slide leaving the major U.S. equity averages sharply lower at the close. The Nasdaq led the retreat, falling by 2.8%.
Fintech stocks were among the big decliners on the session. The sector was pressured by general risk-off sentiment and worries about increased competition from Apple. The decline pulled down names like Affirm Holdings (AFRM), Block (SQ), SoFi Technologies (SOFI), Upstart Holdings (UPST) and PayPal (PYPL).
Elsewhere in fintech, Brazil-based PagSeguro Digital (PAGS) lost nearly a quarter of its value following the release of quarterly results. Meanwhile, the general downward pressure took beaten-down former pandemic darling Peloton Interactive (NASDAQ:PTON) to a new 52-week low.
Looking at some of the day's gainers, Couchbase (BASE) posted a double-digit percentage gain, bolstered by the release of strong financial figures. At the same time, the approval of a legal settlement sent Renren (RENN) to a new 52-week high.
Sector In Focus
The prospect of a Buy Now, Pay Later product from Apple prompted sector-wide selling among fintechs. With looming competition from the tech giant, many investors fled more speculative players in the industry.
Affirm Holdings (AFRM) and Block (SQ) were among the worst performers in the group. Both stocks plummeted more than 9%.
The list of decliners also included SoFi Technologies (SOFI) and Upstart Holdings (UPST), which both fell more than 8%. PayPal (PYPL) retreated about 4%.
Standout Gainer
Shares of Couchbase (BASE) surged 13%, driven higher by a strong quarterly report, which saw the company beat projections on both the top and bottom lines.
The database software provider reported a Q1 loss that was not as steep as analysts had predicted. Meanwhile, revenue rose 25% from last year. The company also boasted accelerating growth in its annual recurring revenue, which jumped 27% from last year.
BASE finished Thursday's trading at $16, an advance of $1.85 on the session. The stock, which came public last summer, reached a 52-week low of $11.68 in mid-May.
Shares have come about 37% off their recent low but remain lower by 35% for 2022 as a whole.
Standout Loser
Earnings news triggered a wave of selling in Brazil-based fintech PagSeguro Digital (PAGS), which plunged 24% on the day.
PAGS met expectations with its Q1 profit and said active clients surged to 14.3M. However, the firm's revenue fell short of projections, despite rising significantly from last year.
Hurt by the disappointing top-line results, PAGS retreated $4.10 to finish at $13.11.
Even with the slide, the stock remains off a 52-week low reached in mid-May. Still, shares have fallen 54% since the end of 2021.
Notable New High
The approval of a settlement in a contentious investor lawsuit prompted gains in Renren (RENN), pushing shares of the China-based social networking service to a new 52-week high.
A New York judge approved the deal, which stems from a lawsuit originally filed by Oasis Management against the company and its founder and CEO Joseph Chen, accusing them of stripping Renren of its SoFi (SOFI) stake and other valuable investments at prices far below fair market value.
RENN saw significant volatility late last year as the lawsuit progressed but has been building strength since mid-December, when it traded at just above $10 a share. On Thursday, the stock climbed by $18.60 to close at $29.52, reaching an intraday 52-week high of $30.29 during the session.
Shares have climbed nearly 136% in the past six months.
Notable New Low
Thursday's risk-off trade triggered another step down for many former high fliers that have suffered in 2022, as investors have moved away from speculative and pandemic-inflated stocks. This included Peloton Interactive (PTON), which dropped another 9% and set a fresh 52-week low.
Earlier this week, the home exercise equipment maker appointed a new CFO, naming Liz Coddington to the top financial role. The former Amazon executive is succeeding Jill Woodworth, who is stepping down after serving in the position since 2018.
On Thursday, PTON retreated $1.07 to close at $11.12. The stock also set a new intraday 52-week low of $11.10. This also marked an all-time low for the stock, below its pre-COVID levels and well below the $29 IPO price with which it first came to market in its initial debut back in 2019.
Shares surged to an all-time high of $171.09 in January 2021, fueled by pandemic-inspired demand for home workout gear. The stock lost ground in 2021 and has extended that downward pressure this year. PTON has now lost 94% of its value since its peak.
For more on the day's best- and worst-performing stocks, click over to Seeking Alpha's On The Move section.