Rising rates, less consumer spending may cause pain for Buy Now, Pay Later space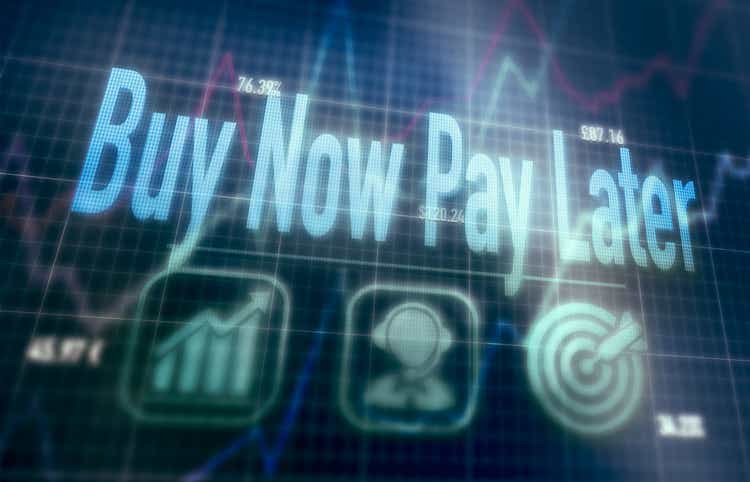 Buy Now, Pay Later firms like Affirm (NASDAQ:AFRM), Block's (NYSE:SQ), Afterpay (OTCPK:AFTPF) (OTCPK:AFTPY) and Klarna (KLAR) are facing a test of being able to withstand rising interest rates, reduced consumer spending and tighter financial conditions.
BNPL, which allows consumers to make purchases in installments over an extended period of time, has emerged rapidly over the past couple of years amid a historically low interest rate environment, allowing BNPL lenders to raise funds at a relatively lower cost. Specifically, transaction volume reached $120B in 2021 compared with $33B in 2019, Reuters reported Friday, citing data from GlobalData.
Interest rates, though, are currently rising to multi-year highs as the Federal Reserve and a slew of developed central banks embrace monetary tightening to dull inflationary pressures. In turn, the BNPL space is being faced with a margin squeeze amid higher funding costs, Reuters noted.
"Right now there's more caution and less interest (in BNPL firms from investors) because of the financial risks that could become apparent here if we are in an economic slowdown or a potential recession," said Bryan Keane, senior payments analyst at Deutsche Bank, as quoted by Reuters.
Smaller BNPL players will likely have trouble accessing funding to lend to consumers, as "most Buy Now Pay Later providers don't have access to deposits, they generally aren't financial institutions," Jordan McKee, principal research analyst at 451 Research, told Reuters. "There are certainly a few exceptions to that. But generally they need to borrow these funds to lend out and as interest rates associated with borrowing those funds increase ... it's costing them more money to extend money out to consumers and that puts pressure on their margins."
Some BNPL firms are already showing signs of trouble. For example, Klarna (KLAR), a private company based in Sweden, recently slashed 10% of its workforce in an effort to reduce costs. Earlier, Klarna CEO Sebastian Siemiatkowski said his company has lost money in recent years as it spent heavily on U.S. expansion.
Shares of BNPL firms like Affirm (AFRM) -16.7% further dropped over the past week after Apple (AAPL), the world's second-largest smartphone manufacturer valued at $2T, said it will handle lending itself for BNPL products. That move will likely increase competition in the space and could draw clients away from the top BNPL providers.
In mid-May, Block's Square integrated Afterpay's BNPL to in-person points of sale.