Marathon Digital, Riot Blockchain bitcoin mining growth soften the most in May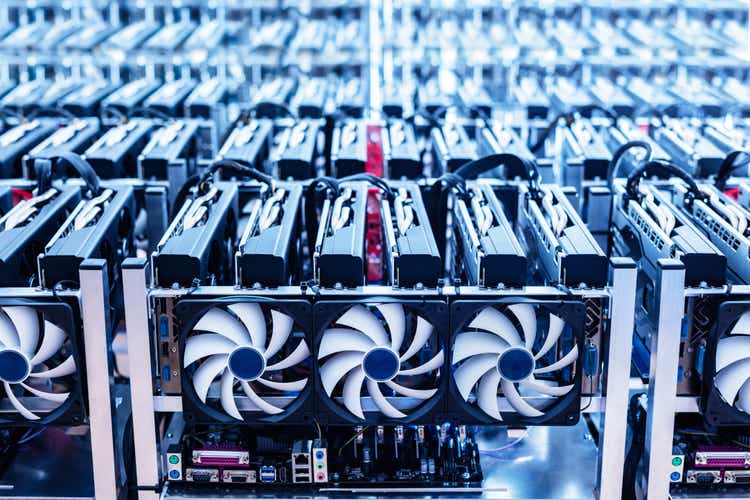 Marathon Digital (NASDAQ:MARA) and Riot Blockchain (NASDAQ:RIOT) bitcoin mining growth slid again in May, while Bitfarms (BITF), HIVE Blockchain (HIVE) and Core Scientific (NASDAQ:CORZ) saw some upside momentum. Overall, crypto miners' performance metrics softened a bit last month as the number of bitcoins (BTC-USD) mined slipped nearly 2% on average, but the hash rate edged up almost 2%, according to the table below.
The slump in bitcoin (BTC-USD) mining looms as the BTC network hash rate wobbled throughout May, but still hovers near all-time highs of 274.75 exahash per second ("EH/s") on June 8, recently standing at 227.16, according to data from CoinWarz. Note that the mining hash rate is a measure of how much computing power is being used to process transactions on the blockchain. It estimates bitcoin's hashing power based on the number of blocks being mined. Ultimately, the more hashing power in the network, the greater its security against potential attacks.
Also, the bitcoin (BTC-USD) network difficulty is standing near record highs as well, implying there's an influx of miners and it will take more computing power to mine the same number of blocks, making the network more secure against attacks.
Looking at the crypto miners individually, Marathon Digital (MARA) CEO and Chairman Fred Thiel said "maintenance issues at the power generation station in Montana caused us to produce approximately 47% less bitcoin than what would have been expected based on the network's hash rate during the month. However, we believe that our production results will improve over time as we move forward with our deployment plan and energize our miners installed in Texas."
Thiel added that his company had "experienced delays in energization as Compute North's energy provider awaits federal agency confirmation of its exempt status for tax purposes based upon its arrangements with Compute North," a computing provider.
As for Riot Blockchain (RIOT), the company not only mined a smaller number of bitcoins (BTC-USD) M/M in May, but it also reduced its 2023 hash rate guidance, with expectations for 12.6 EH/s of mining capacity vs. 12.8 EH/s in the prior view.
Meanwhile, bitcoin (BTC-USD) miners are being scrutinized by regulators since they consume a vast amount of computing power (energy) to process transactions on the Proof-of-Work blockchain. New York's financial watchdog, in particular, is nearing its decision to ban carbon-based crypto mining for two years in a move that would likely benefit eco-friendly miners like Albany-based Soluna Holdings (SLNH), as more miners using clean energy sources come to New York, while those using fossil fuel-based power will be forced to leave.
"The regulatory environment in New York will not only halt their target – carbon-based fuel proof of work mining – but will also likely discourage new, renewable-based miners from doing business with the state due to the possibility of more regulatory creep," GEM Mining CEO John Warren told CNBC on June 3.
Previously, (June 10) EU nears deal on key crypto legislation in June.
2022
Company
Ticker
Type
May
April
March
Three-Month Average
Marathon Digital
(MARA)
bitcoins mined
268
299
436.1
334.4
Bitfarms
(BITF)
bitcoins mined
431
405
363
399.7
hash rate (EH/s)
3.4
3.3
2.7
3.1
HIVE Blockchain
(HIVE)
bitcoins mined
273.4
268.8
278.6
273.6
hash rate (EH/s)
2.18
2.15
2
2.1
Riot Blockchain
(RIOT)
bitcoins mined
466
508
511
495.0
hash rate (EH/s)
4.6
4.7
4.3
4.5
CleanSpark
(CLSK)
bitcoins mined
312
313
318
314.3
hash rate (EH/s)
2.5
2.4
2.3
2.4
Hut 8 Mining
(HUT)
bitcoins mined
309
309
345
321.0
hash rate (EH/s)
2.64
2.58
2.54
2.6
Core Scientific
(CORZ)
bitcoins mined
1138
1121
1143
1134.0
hash rate (EH/s)
9.2
8.9
8.3
8.8
Argo Blockchain
(ARBK)
bitcoins mined
124
166
163
151.0
BitNile
(NILE)
bitcoins mined
39
38.5
31.7
36.4

Average bitcoins mined (May)
373.4
Average hash rate (May)
4.09