Analysts expect Rent the Runway to run higher after strong earnings result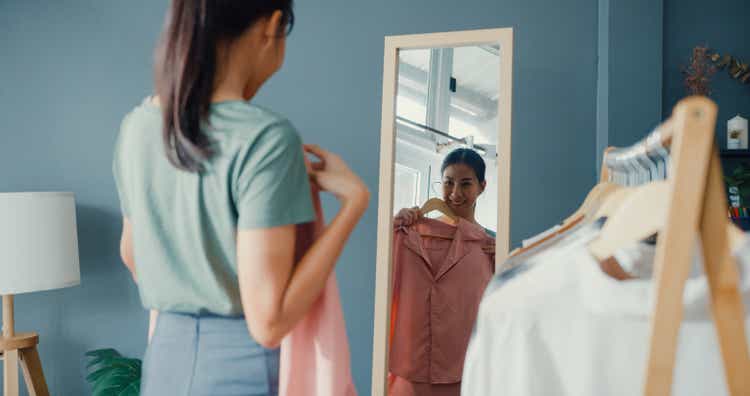 Rent the Runway's (NASDAQ:RENT) post earnings gain may have been erased amid a broader market selloff, but analysts are nonetheless optimistic on the trajectory for the stock.
For the first quarter, the online retailer beat estimates on top and bottom lines while significantly growing subscribers grew and expanding margins from the prior year. Moving forward, management voiced optimism on Thursday evening that the company remains firmly on a good path to profitability.
That confidence was requited by analysts on Friday as bullish theses on the stock were defended despite a dip into the red on the day.
"RENT reaffirmed its commitment to profitability and spoke to efficiencies being driven in the model (e.g. RFID, 30% reduction in product deactivations, etc.)," Jefferies analyst Ashley Helgans wrote in a note reviewing the earnings release. "We remain optimistic on the 2022 event-backlog as tailwind for the balance of the year and into 2023."
She reaffirmed a "Buy" rating on shares alongside a $13 price target, suggesting the stock should triple from Friday's levels.
While less bullish overall, JP Morgan analyst Michael Binetti advised that Rent the Runway's (RENT -0.8%) strong earnings release bolsters confidence in the company's ability to navigate a volatile macroeconomic environment.
"RENT still has much to prove with regard to profitability, but we think Q1 results and management confidence in targets reflects solid progress on current initiatives," he wrote in a note to clients, adding that already bullish guidance was likely conservative.
Binetti also rated the stock a "Buy", albeit with a more conservative $7 price target.
Read more on the details of the quarter.