White-hot housing demand cools to red-hot as mortgage rates, inflation rise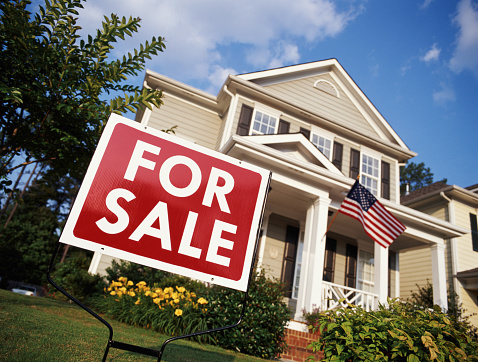 The white-hot housing market that only intensified during the pandemic is starting to ease as higher mortgage rates and still rising home prices push some prospective homebuyers to the sidelines.
In the past week: May housing starts and building permits both fell more than expected and homebuilder sentiment slipped for the sixth straight month to the lowest level since June 2020. But the sector is by no means in the dumps. The week's mortgage applications increased 6.6%, rebounding from a 6.5% decline in the previous week.
Recent reports from Redfin and Re/Max are also portray an industry that's downshifting from a turbo-charged pace. For example, home closings in May, typically one of the most active months of the year for home sales, dropped 8.5% from a year ago, Re/Max said in its May 2022 Housing Report.
In addition, inventory is starting to increase, though it remains well below historical levels. May ended with 16.3% more homes for sale than in April, Re/Max said. Months supply of inventory increased to 0.9 from 0.8 in April. In the five years before the pandemic, a more typical inventory level was two to three months' supply, according to the company.
That hasn't halted rising home prices. The median sales price of $430K in May 2022, increased 1.2% from April's $425K and was 13.2% higher than $380K in May 2021. Another indication that home prices are nowhere near soft: the average close-to-list price ratio in May was 103%, meaning that homes sold for 3% more than the asking price. That compared with almost 14% in April and 102% in May 2021.
Redfin is seeing similar dynamics in competing bids for homes. The typical home in a bidding war received 5.3 offers in May, down from 6.8 in April and 7.4 in May 2021, according to data from its agents.
"Homebuyer competition is cooling because rising mortgage rates and surging home prices have made homebuying less feasible for many Americans," Redfin said. That's borne out in the typical monthly mortgage rate for a new homebuyer — $2.514 at the current 5.78% mortgage rate, up almost 50% from a year earlier, when mortgage rates were 2.93%.
Redfin economists expect the bidding-war rate to fall below 50% by the end of 2022 — on average, 5.6% of homes for sale each week had a price drop, the highest level since Redfin started collecting the data at the beginning of 2015. That means 22.4% of homes for sale during the entire four-233k period had a price drop.
Home sellers were also more likely to lower their list price for the four weeks ended June 12, Redfin said in a separate report.
In the past five years, real estate services companies outperformed both home construction firms and the S&P 500 as seen in the chart below.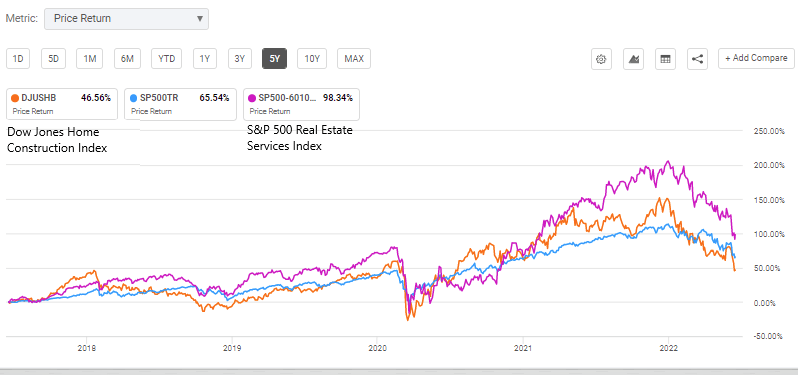 With the moderating activity, analysts have been re-evaluating their ratings. Wells Fargo downgraded Toll Brothers (TOL), M.D.C. Holdings (MDC) and Meritage Homes (MTH), while BofA cut its rating on Dream Finders Homes (DFH). B. Riley downgraded ratings on Taylor Morrison Home (TMHC), Tri Pointe Homes (TPH), and Green Brick Partners (GRBK).
May existing home sales data is due out on Tuesday, with a 5.39M annual rate expected vs. 5.61M in April. New homes sales data for May is set to be released on Friday, with 580K expected, down from 591K in April.
SA contributor Bela Lakos calls D.R. Horton (DHI) a great long-term play, but be aware of near-term headwinds