Federal Reserve's Powell sees continuing rate increases as 'appropriate': Senate testimony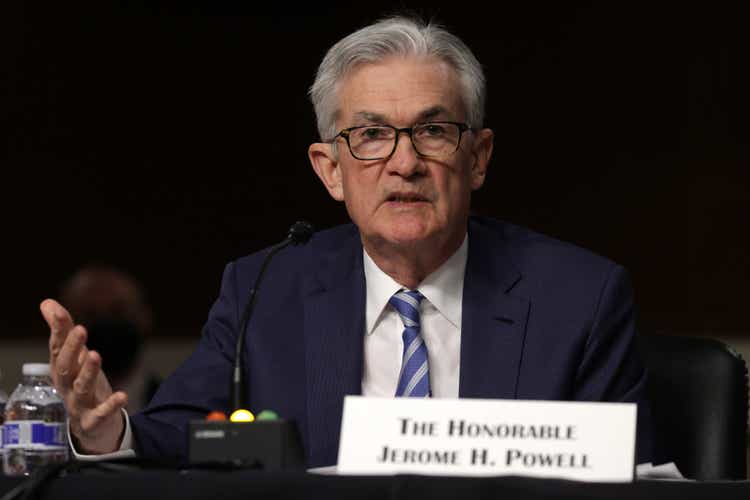 Federal Reserve Chair Jerome Powell reiterated in his semi-annual Monetary Policy Report to Congress on Wednesday his stance that "ongoing rate increases will be appropriate" and the pace of those changes will depend on incoming data as the central bank tightens policy to tame inflation.
"My colleagues and I are acutely aware that high inflation imposes significant hardship, especially on those least able to meet the higher costs of essentials like food, housing, and transportation," Powell said in his prepared opening statement. "We are highly attentive to the risks high inflation poses to both sides of our mandate, and we are strongly committed to returning inflation to our 2% objective."
He pointed out that recent indicators "suggest that real gross domestic product growth has picked up this quarter, with consumption spending remaining strong." Growth in business fixed investment seems to be slowing and the housing sector also appears to be softening, partly because of higher mortgage rates, he said.
"The tightening in financial conditions that we have seen in recent months should continue to temper growth and help bring demand into better balance with supply," Powell added. Meanwhile, the labor market remains "extremely tight."
Furthermore, he repeated that the Fed will need to be nimble in responding to incoming data as inflation surprised to the upside over the past year "and further surprises could be in store," he said. "The American economy is very strong and well positioned to handle tighter monetary policy."
At 9:46 AM ET, the U.S. Dollar Index slips to 104.34 after touching as high as 104.95 early Wednesday.
12:01 PM ET: Hearing ends. At 12:09 PM ET, all three major U.S. stock averages are the red — Nasdaq -0.1%, S&P 500 -0.2%, and the Dow -0.2%. Earlier the Nasdaq had risen as much as 1.3%, S&P had risen 0.8%, and the Dow +0.5%.
12:00 PM ET: Stablecoins don't have the regulatory scheme that it needs to, Powell said. Congress will have to determine which regulatory agency is responsible for stablecoins and cryptocurrency. The Fed regulates what banks can do.
11:53 AM ET: Core PCE (personal consumption expenditures) inflation has made some progress since late last year, but it's still "way too high." He doesn't see the risk of a recession as particularly elevated, however "no one is really good at forecasting recessions." Powell doesn't see signs of recession currently.
11:50 AM ET: When asked about ruling out a 100 basis point rate increase, Powell said, "I would never take something off the table for any and all purposes."
11:38 AM ET: "Our level of inflation is broadly comparable with those of other developed economies," Powell said, in putting U.S. inflation in perspective. He pointed out that demand is a bigger factor in the U.S. inflation, while in Europe, energy prices are a bigger factor.
11:27 AM ET: "I know higher interest rates are painful, but that's the tool we have," he said, when asked about the effect that higher interest rates have on U.S. farmers' profit margins.
11:20 AM ET: Powell explained the three basic channels through which rates work to temper demand: 1) interest-sensitive spending including durable goods, housing; 2) asset prices — when interest rates go up, it raises the cost of holding assets; and 3) the exchange rate.
11:10 AM ET: "It is our goal" to achieve a soft landing, Powell said. "It's going to be very challenging and is made more challenging by the events of the last several months" such as the war. There are a number of factors, though, that aren't in the Fed's control, he said.
11:05 AM ET: He agreed that implementing the Fed's real-time payments system would save Americans billions of dollars. He's focusing on the effort to "get it done right and on time", which is next year.
11:03 AM ET: Powell said he'll look into increasing transparency on which firms have applied for Federal Reserve master accounts, which ones are granted the accounts, and which aren't.
11:00 AM ET: Rate increases should affect the housing sector "fairly quickly," he said. Already, "we're seeing a softening in housing."
10:50 AM ET: Unrealized losses on its holding of mortgage-backed securities isn't part of the Fed's decision-making process in terms of shrinking its balance sheet. The Fed said it will consider sale of MBSs once the balance sheet normalization started. It's possible it would sell MBS holdings at a loss, Powell said. However, "we've contributed a billion dollars of profit to the Treasury in the past 10 years," he pointed out.
10:45 AM ET: The Fed expects to raise rates beyond the neutral rate, which is now estimated at 2%-2.5%, he said. (The neutral rate is the point at which the Fed's rate neither fuels nor hinders the economy.) Asked if a recession is possible if the rate is raised too quickly, Powell said, "It's certainly a possibility. It's not our intended outcome at all."
10:39 AM ET: When asked what Congress could do to help increase supply to relieve inflation, Powell said most things that Congress could do would help in the long term, not in the short term. His suggestions for what federal legislators could do: "investing in people so they can remain in the labor market longer," and investing in infrastructure so industry can be more productive.
10:32 AM ET: Concerning, China's recent lockdowns to contain COVID, "I don't think we've seen full effects of the lockdowns they've had" on supply chains yet, he said. As long as China keeps the zero COVID policy, the potential for more lockdowns will continue.
10:25 AM ET: The Federal Reserve doesn't have the tools to address how industry structure affects prices, specifically in the oil industry, Powell said. "Questions about industry and structure is not our assignment," he said. The outcome is something that the central bankers take into consideration when making their monetary policy decisions.
10:18 AM ET: Asked why the Fed doesn't use real-time rules-based decisions, Powell said the Taylor rule doesn't take into account financial conditions. He pointed out that financial conditions started tightening even before the Fed raised rates. "Markets price that in," he said. "You're getting a lot of financial tightening long before" the rate hikes.
Update at 10:03 AM ET: In response to questions by Senator Elizabeth Warren, Powell acknowledged that the Fed's rate increases aren't likely to bring down gasoline and food prices as Russia's invasion.
Developing... check back for updates.
Previously (June 17), stablecoins could pose risks to investors, financial system, Fed says in report.
Dear readers: We recognize that politics often intersects with the financial news of the day, so we invite you to click here to join the separate political discussion.