Supreme Court ruling could boost sales of abortion drugs, but insurer coverage varies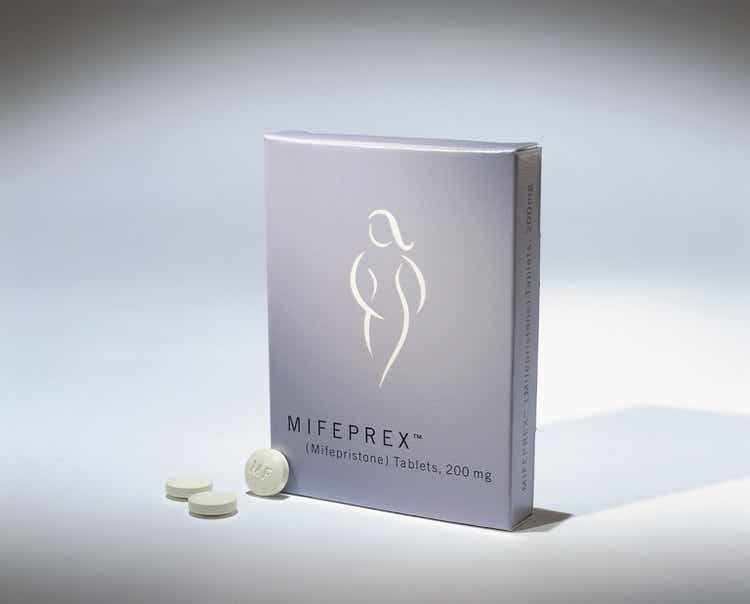 Friday's Supreme Court decision on abortion that overturned the precedent set in 1973 with Roe v. Wade may have the unintended consequence of boosting demand for medication abortions.
Mifeprex (mifepristone), approved in 2000 and also

known as RU-486, is the most commonly used abortion-inducing medication. It is taken along with another drug, misoprostol.

A generic version of mifepristone has been available since 2019 made by privately held GenBioPro. Brand-name Mifeprex is manufactured by Danco Labs, also a private company.
The mifeprex/misoprostol combination is only useful if it has been 10 weeks or less from the first day since the last menstrual period. After that point, an abortion can only be done surgically.
According to Planned Parenthood, a medication abortion without insurance can cost up to $750.
Note that medications such as Plan B One-Step and Ella cannot end a pregnancy. They are known as emergency contraception after unprotected sex or contraceptive failure.
Among major insurers -- UnitedHealth Group (NYSE:UNH), Cigna (NYSE:CI), Anthem (NYSE:ANTM), and CVS Health's (NYSE:CVS) Aetna unit included -- coverage of medication abortion depends on individual plans.
If a plan covers elective surgical abortion, it likely covers medication abortion.
Federal law allows for use of Medicaid funds for abortion only in cases of rape, incest, and when the mother's life is in danger. However, 16 states have laws that allow for the use of state funds to provide abortion to Medicaid recipients.
Currently, 20 states allow access to abortion pills via telehealth. When a draft of the Dobbs v. Jackson Women's Health Center decision leaked in May, one telehealth service said it received a huge spike in interest in the medications, Reuters reported at the time.
In response to Friday's decision, a slew of companies said they would pay for travel expensive for employees to get abortions in states that will still allow them.
Dear Readers: We recognize that politics often intersects with the financial news of the day, so we invite you to click here to join the separate political discussion.