Casino stocks are oversold, 'large potential upside' available - B. Riley
Jun. 28, 2022 10:13 AM ET
Caesars Entertainment, Inc. (CZR), GDEN, EVRI
CNTY, FLL, INSE, AGS, GAN, DDI, GENI
By:

Kevin P. Curran,

SA News Editor
10 Comments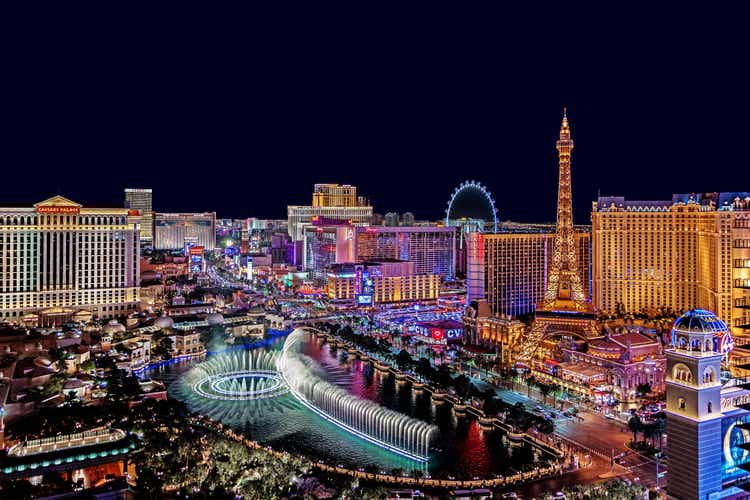 Many casino stocks could double in the ensuing year should the currently priced-in recession risks not materialize, according to B. Riley analyst David Bain.
He explained that while macro risks to the industry are very real and price targets are worth trimming, the scale of the drawdown for many casino stocks is overdone.
"While we reduce our gaming stock price targets to encompass macro risks, we believe our valuation methodologies represent a fairly strong hedge based on historical data and thesis points below," Bain told clients on Tuesday. "We believe the resulting price targets still leave gaming stocks undervalued, many of which have potential to double in stock price over the next twelve months."
He added that the potential macroeconomic pressures that reflect valuations in line with Great Financial Crisis levels are far more dire than deserved, in his view.
Among the stocks with the greatest upside, Bain highlighted Caesars Entertainment (NASDAQ:CZR) for its "significantly stronger margins versus industry averages" and its status as "the fastest market share gainer of significance in digital" among major casino players. He also recommended Golden Entertainment (NASDAQ:GDEN) due to its substantial real estate holdings and Everi Holdings (NYSE:EVRI) due to its above average margins and "accretive digital opportunity."
A rundown of price target shifts and ratings offered in the note are listed below: