Nvidia, AMD bounce off 52-week lows as semiconductors sell-off on recession fears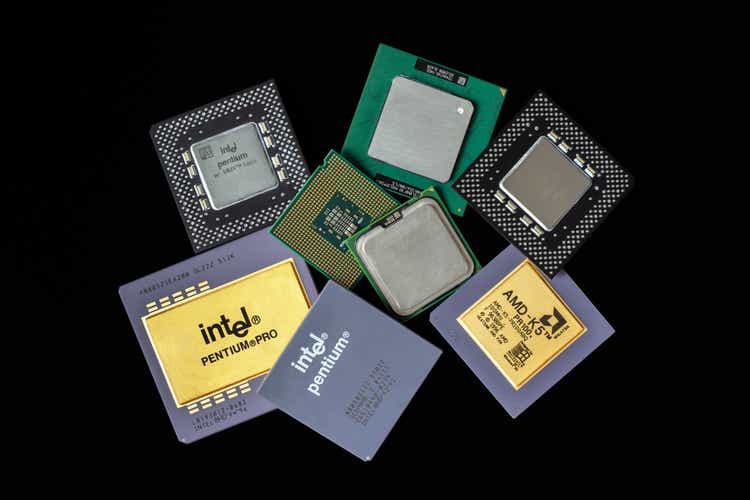 Nvidia (NASDAQ:NVDA) and Advanced Micro Devices (NASDAQ:AMD) shares both hit a 52-week low earlier in the session on Wednesday, but rebounded slightly even as the broader semiconductor industry continued to sell off on worries of an inventory glut and global recession.
The Jensen Huang-led Nvidia (NVDA) hit a low of $151.70 on Wednesday, but shares were finished the day at $155.42, down nearly 3% on 47M shares.
Advanced Micro Devices (AMD), which competes with Nvidia (NVDA) in the GPU space, also fell sharply on Wednesday, with shares falling nearly 3.5% to finish at $77.99, after hitting a 52-week low of $76.51 earlier in the session.
Both companies have sold off sharply over the past several trading sessions, including 5 of the last 6, and are down nearly 49% year-to-date, compared to the SOX index, which has fallen 33% year-to-date.
The decline in shares comes one day before Micron Technology (MU) is set to report second-quarter earnings, with many analysts showing concern over weaker DRAM and NAND prices that could hit Micron's guidance.
Micron (MU) shares fell nearly 3.5% to close at $56.02 on Wednesday, while several other chipmakers, including Intel (INTC), Qualcomm (QCOM) and Texas Instruments (TXN) saw declines around 1%.
Separately on Wednesday, investment firm Bank of America downgraded Texas Instruments (TXN), noting its preference for Analog Devices (ADI).
Last week, investment firm Morgan Stanley restarted coverage on AMD (AMD) shares, noting it is in a position to gain market share in both cloud servers and PCs.