Bitcoin briefly falls below $19,000 as selling pressures continue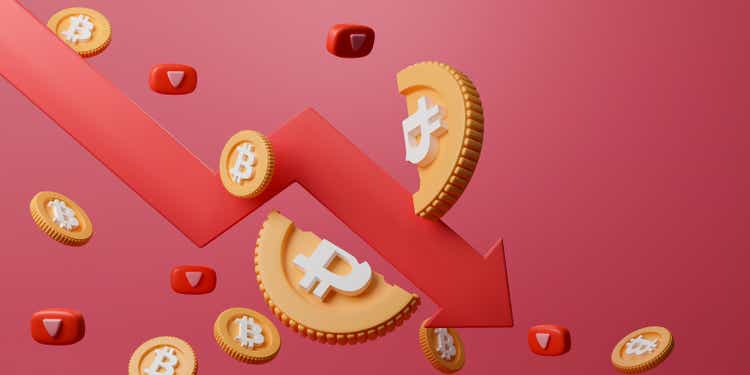 Bitcoin (BTC-USD) plunged below 20K and momentarily dropped below 19K in early market trading as the cryptocurrency now hovers near $19,050.
Investors shield themselves from the crypto asset and other related cryptocurrencies as Wall Street heads for a risk-on session with the major averages looking to open well into the red.
BTC-USD which is lower by 5.3% now heads towards $17,588 its recent 18-month trading low. Its downward trajectory has pulled down with it related crypto stocks and exchange-traded funds on the day.
Crypto & Blockchain-Related Stock Price Action: MicroStrategy Inc. (NASDAQ:MSTR) -7.6%, Coinbase Global (NASDAQ:COIN) -4.4%, and Riot Blockchain (RIOT) -4%.
Crypto ETF Price Action: ProShares Bitcoin Strategy ETF (BITO) -5.4%, Valkyrie Bitcoin Strategy ETF (BTF) -5.7%, and the VanEck Bitcoin Strategy ETF (XBTF) -5.5%.
Bitcoin is not the only cryptocurrency to sell-off, others include the likes of Ethereum (ETH-USD) -8.5% and Solana (SOL-USD) -9.2%.
Bitcoin has now fallen 59.7% in 2022 and is off 72.4% from its Nov. 2021 peak.
Yves Longchamp, head of research at digital asset-focused SEBA Bank, told CNBC: "Bitcoin continues to be under pressure as other assets are. The mix of high inflation, rising interest rates and recession weigh on cryptocurrencies."
Along with the falling price of Bitcoin, Grayscale announced it is suing the U.S. Securities and Exchange Commission as its spot Bitcoin ETF was rejected.