Advanced Micro Devices slips even as Northland upgrades despite recession concerns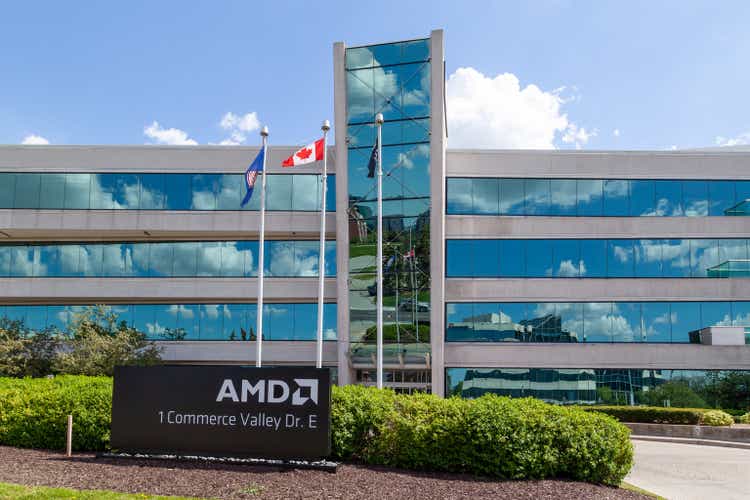 Advanced Micro Devices (NASDAQ:AMD) shares slipped on Thursday even as investment firm Northland upgraded the semiconductor stock, while cutting estimates amid worries of a global recession.
Analyst Gus Richard moved his rating on AMD (AMD) shares to outperform from market perform, but lowered the price target to $95, noting that estimates for PC CPUs, GPUs, gaming consoles and its Xilinx business were reduced on fears of a global recession. The analyst left server revenue estimates unchanged, however.
The firm estimates that PC CPU revenue will fall 6% next year, while GPU revenue will fall 7%, for a total of $675M. The firm estimates that Xilinx revenues will decline 6% year-over-year and game console revenue will rise $400M, up 8% year-over-year, compared to the previous forecast of $740M.
Enterprise revenue was left at a growth rate of 55% year-over-year at $3.1B, all of which Richard said was a "low bar" for AMD.
"We scrubbed our AMD numbers and lower our [2023] estimates to comprehend a global economic slowdown that will likely impact PC CPUs, GPUs, game consoles, and XLNX," Richard wrote in a note to clients, adding that AMD's server CPUs are "at the top of the stack next year" which should help mitigate any impact.
AMD (AMD) shares fell 1.5% to $76.80 in premarket trading on Thursday, one day after touching a 52-week low.
Last week, investment firm Morgan Stanley restarted coverage on AMD (AMD) shares, noting it is in a position to gain market share in both cloud servers and PCs.
Analysts have been positive on Advanced Micro Devices' stock (AMD). It had an average rating of BUY from Wall Street analysts, while Seeking Alpha authors are slightly less positive on it, but still rate it a BUY. Conversely, Seeking Alpha's quant system, which consistently beats the market, rates AMD a BUY.