Constellation Brands pours up earnings beat, affirms full-year guide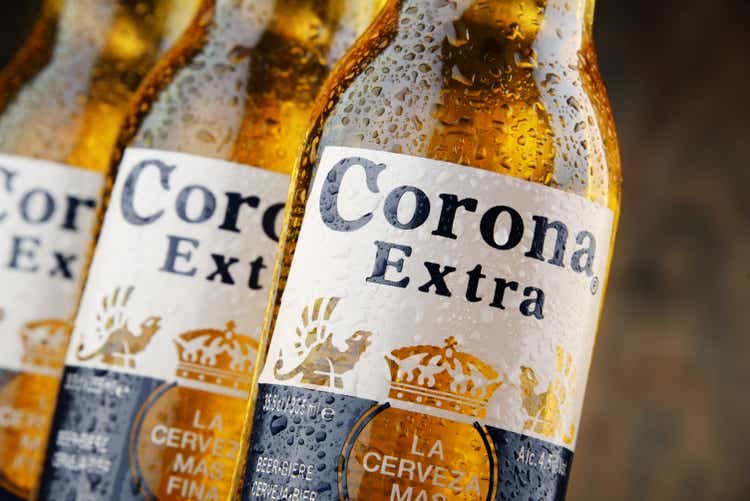 Shining sales for Corona aided an earnings beat for Constellation Brands (NYSE:STZ), while questions over its cannabis investments remain an overhang.
The Corona-parent reported non-GAAP EPS of $2.66 for its fiscal first quarter, beating estimates by $0.15, alongside a 16.6% jump in revenue from 2021 to $2.36B, coming in $200M above consensus. Beer sales were cited as particular strengths, with Corona and Modelo Especial leading to a 9% jump from the year prior. In fact, it was noted that the latter was the number one share gainer in high-end beers across the US.
"Across the business we're driving consumer demand for our exceptional portfolio of premium, high-end products while executing strong financial and operational performance," CEO Bill Newlands said.
Moving forward, the company affirmed comparable basis EPS of $11.20-$11.50 for the full year, above an analyst consensus of $11.13. Net sales growth for beer are expected to reach 7% to 9% while wine and spirits sales are set to fall 1% to 3%.
To be sure, there was a consistent issue called out by nearly all brewers and distillers, that being inflationary impacts. Operating margin decreased 260 basis points in the first quarter due to higher raw material, transportation, brewery, and depreciation costs, as well as foreign currency effects.
Additionally, the overhang of Canopy Growth Corporation (CGC) is expected to severely hit earnings, bringing full-year EPS forecasts below consensus when factored in. Since investing in the Canadian cannabis company in 2017, Constellation Brands (STZ) has notched a $556M loss on its investment. That includes a $22M decrease in the fair value of the investment in the first quarter.
Elsewhere, the company announced an agreement with the company's founding family to eliminate the company's Class B common stock. Under the terms of the agreement, the each outstanding share of Class B stock will convert into the right to receive one share of Class A common stock plus cash consideration in the amount of $64.64 per share of Class B common stock, or a total amount of $1.5B. The proposed price represents a 26.5% premium relative to Constellation's Class A common stock closing share price as of June 29.
Shares traded largely flat in Thursday's premarket hours.
Read more on Goldman Sachs' view of the beer industry.