As amyloid-targeting therapies for Alzheimer's fail, where might success lie?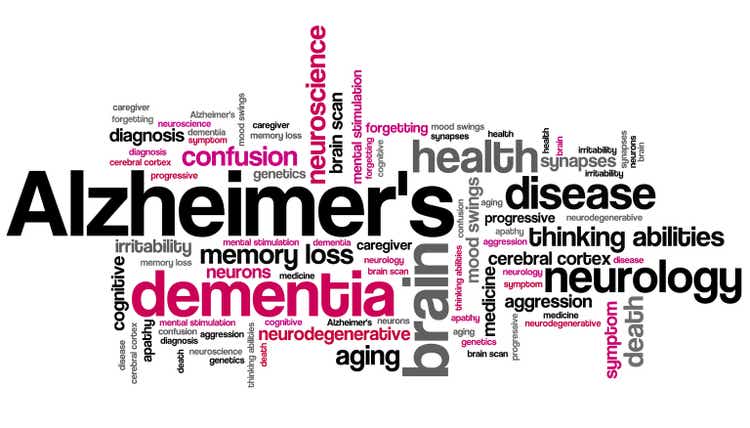 Mid- and late-stage data readouts over the last few years for Alzheimer's therapies have had a similar theme: Failure.
Almost all these candidates have one thing in common: They target reducing beta-amyloid plaque in the brain that is thought to play a role in the memory-robbing disease.
However, the amyloid-targeting theme is losing steam as evidenced by mounting failures. The most recent was in June when Roche (OTCQX:RHHBY) reported that crenezumab did not slow or prevent cognitive decline in people with a genetic mutation that causes early-onset Alzheimer's.
Roche (OTCQX:RHHBF) is also expected to release phase 3 data on another candidate, gantenerumab in early Alzheimer's, in Q4. Gantenerumab, like crenezumab, both target amyloid.
The crenezumab failure came after the flop of Biogen's Aduhelm (aducanumab). Although it won approval in 2021, in April, the Centers for Medicare & Medicaid Services severely limited coverage of the treatment citing poor efficacy. It too is an amyloid-targeting therapy.
Eli Lilly (NYSE:LLY) is developing donanemab though the drugmaker won't have phase 3 data available until mid-2023. However, phase 2 data showed statistically significant slowing of clinical progression and a reduction in amyloid plaque.
Lilly's (LLY) other Alzheimer's candidate, solanezumab, failed in three phase 3 trials. The monocolonal antibody works by binding to beta-amyloid peptides and then flushing plaque out of the brain.
Biogen (NASDAQ:BIIB) and partner Eisai (OTCPK:ESALY) are also pinning hopes that their amyloid-plaque targeting monoclonal antibody lecanemab will fare better than aducanumab. They completed a rolling submission to the FDA in May.
However, many other companies are focused on candidates that aren't targeting beta-amyloid plaque.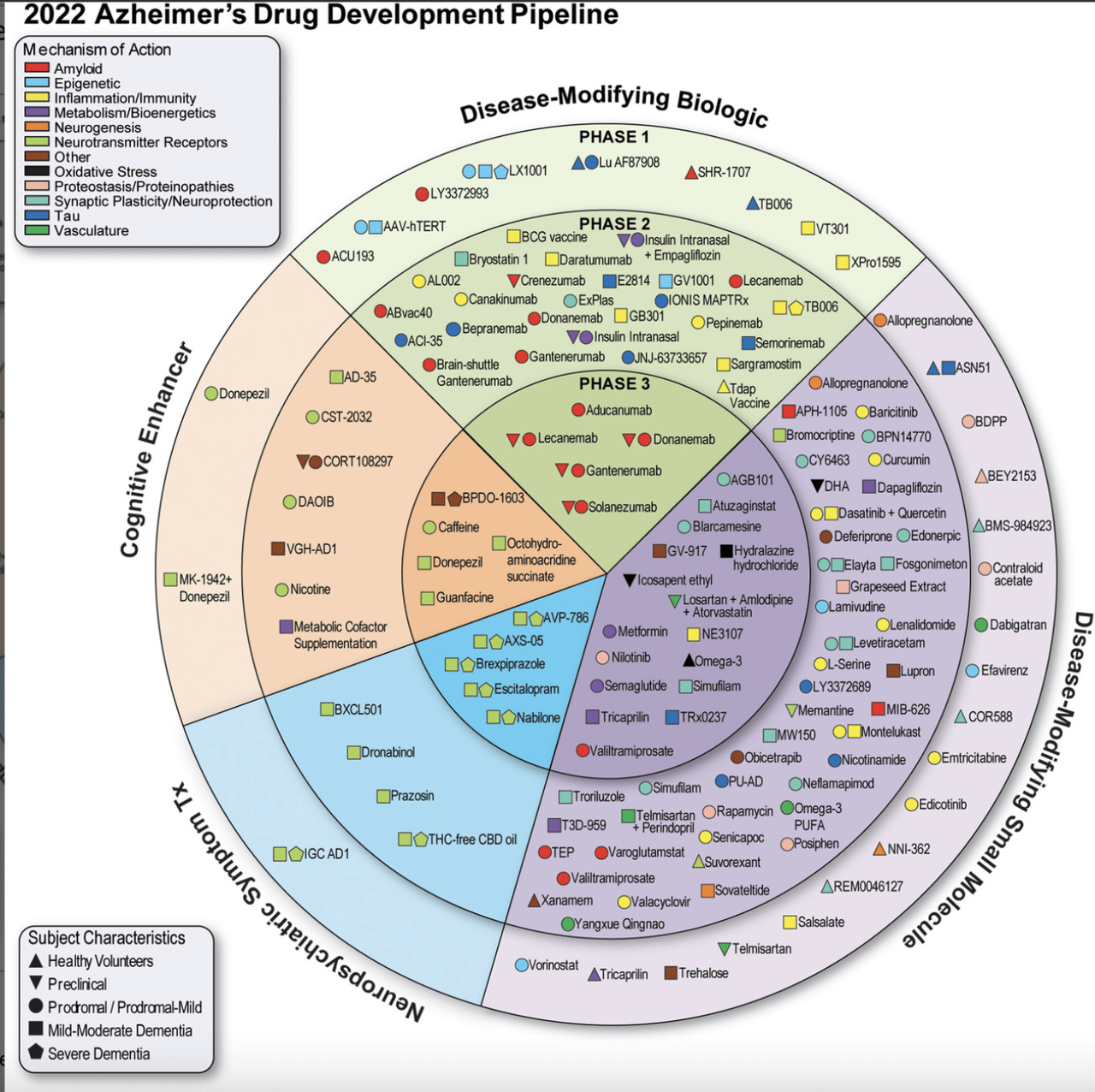 In terms of late-stage candidates, one of the most promising -- and controversial -- that fits this bill is simufilam from Cassava Sciences (NASDAQ:SAVA). Unlike most other Alzheimer's therapies in development, simufilam is given orally. The company says the drug works by restoring the normal shape and function of altered filamin A, a scaffolding protein, in the brain.
However, data from several studies has come under fire and a scientific journal retracted five studied about simufilam authored by a Cassava (SAVA) advisor. Lane Simonian, a Seeking Alpha contributor, noted that investors should hold off on buying shares in Cassava (SAVA) and there are likely better treatments for Alzheimer's.
Anavex Life Sciences Corp. (AVXL) has ANAVEX2-73 (blarcamersine), an oral solution that is also in late-stage development. The drug activates the Sigma-1 receptor, which is known to play a role in regulating neurodegeneration. By doing so, it can minimize protein misfolding and ease oxidative stress in brain cells.
Top-line data from a phase 2b/3 study is expected in H2 2022.
Though Anavex (AVXL) was down ~43% in H1, Lane Simonian argues that blarcamesine's mechanism of action distinguishes it from other candidates and holds promise.
Alector (ALEC) has ALN002 which targets TREM2, a gene that gives instructions for making the protein triggering receptor found on myeloid cells. ALN002 works by improving TREM2 signaling, enhancing microglia activity.
Alector (ALEC) is partnered with AbbVie (ABBV) on the phase 2 candidate.
The company is also developing AL001 to address genetically driven progranulin deficiencies which are thought to be a cause for frontotemporal dementia and a risk factor for conditions such as Alzheimer's. It is partnered with GlaxoSmithKline (GSK) on this candidate.
In March, Stifel cut Alector (ALEC) to hold from buy, expressing caution on AL001.
Buntanetap (formerly ANVS401), yet another oral drug for Alzheimer's, is in phase 2 development from Annovis Bio (ANVS). It works by inhibiting neurotoxic proteins that kill nerve cells. In human and animal studies, it has demonstrated the ability to lower levels of amyloid beta precursor protein and amyloid beta, tau/phospho-tau, and α-synuclein.
In phase 2a trials, the candidate was found to be safe and achieved appropriate pharmacokinetic levels, meeting both primary endpoints. In addition, improvement in cognition was also seen.
AC Immune (ACIU) has two Alzheimer's candidates in the clinic: The anti-tau antibody semorinemab in phase 2 and the anti-pTau vaccine ACI-35.030. The former is partnered with Roche's (OTCQX:RHHBY) Genentech unit, while the latter is with Johnson & Johnson's (JNJ) Janssen division.
Semorinemab was dealt a setback in November 2021 after it missed one of its co-primary endpoints in a phase 2 trial. However, AC Immune (ACIU) saw positive interim results for ACI-35.030 in a Phase 1b/2a trial involving elderly patients with early Alzheimer's disease in February 2021.
Acumen Pharmaceuticals (ABOS) is worth paying attention to for ACU193. Although just in phase 1, the candidate works differently from other Alzheimer's therapies as an anti-amyloid-beta oligomer (AβO) monoclonal antibody. The company touts that as a result, it has a better safety profile, as well as the potential for cognitive improvement and disease slowing.
H.C. Wainwright recently initiated the stock with a buy rating, projecting more than 200% upside.
Athira's Pharma's (ATHA) fosgonimeton (ATH-1017) is designed augment the activity of hepatocyte growth factor and its receptor, MET that are expressed in the central nervous system. This is thought to promote brain health and function.
In June, however, the company reported that a mid-stage trial of the candidate in patients with mild-to-moderate Alzheimer's failed both primary and secondary endpoints.