Etsy, Revolve among new 'Buy' initiations in bullish eCommerce review at RayJay
Jun. 30, 2022 1:20 PM ET
Etsy, Inc. (ETSY), RVLV, REAL
FIGS, TDUP, RENT, BRLT, OSTK, POSH
By:

Kevin P. Curran,

SA News Editor
8 Comments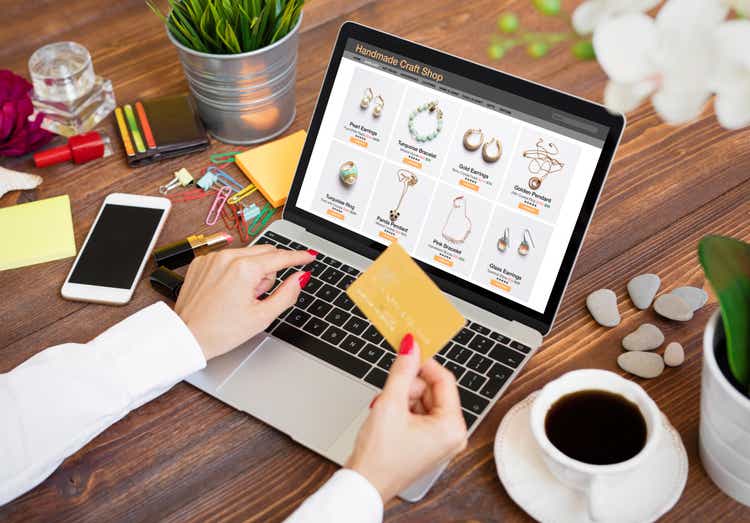 Despite deep drawdowns for the sector as many pandemic restrictions have come down across the globe, Raymond James is advising clients that eCommerce is full of opportunity.
In a new initiation note released on Thursday, equity analyst Rick Patel assigned "Buy" ratings to six digital commerce stocks, as well as one "Strong Buy" and two "Neutral" ratings to prominent names in the sector. While he acknowledged the bullish initiations come at a "controversial time" given macroeconomic trends, Patel advised that the downside risks have largely been eliminated by recent selloffs.
"The nine companies we initiate coverage on have an average stock decline of 57% YTD vs -26% for the Nasdaq. This leads us to believe much of the bad news has been priced in already," he explained. "We lean on our survey of ~600 consumers and have created an investment recommendation framework to identify which companies have oversold given the potential for better fundamentals ahead."
Among the nine companies recommended via the framework, Figs Inc. (FIGS) led the pack with a "Strong Buy" rating, while Etsy (NASDAQ:ETSY), Revolve Group (NYSE:RVLV), The RealReal (NASDAQ:REAL), ThredUp (TDUP), Rent the Runway (RENT), and Brilliant Earth Group (BRLT) rounded out "Buy"-equivalent rated names. Stocks rated at a more cautious "Market Perform" included Overstock (OSTK) and Poshmark (POSH).
Patel explained that while concerns about consumer confidence are eminently reasonable, they may be overstated. According to the Raymond James equity strategy analysis, consumers notched about $2.1T in excess savings during COVID and subsequent stimulus support, only about 10% of this amount has been spent. With shifts toward online shopping expected to remain sticky, there is reason to remain optimistic about eCommerce despite inflation pressures.
Etsy (ETSY) in particular was cited as maintaining a "best-in-class marketplace model with visionary management" that should be able to lead the company amid persistent headwinds. The RealReal (REAL), Rent the Runway (RENT), and Revolve (RVLV) were all applauded for strong DTC models and appeal to higher-end consumers that are likely to be less impacted by inflation.
Figs (FIGS) was afforded the most bullish rating among all the initiations given their rapid disruption of the "sleepy medical scrubs industry with innovative product and marketing" and attractive entry point available after steep drawdowns in the past year. Shares of the California-based medical apparel brand shot up over 11% on Thursday after the analyst endorsement.
Among the two stocks left off the list of "Buy" opportunities, Overstock (OSTK) was viewed more cautiously given its exposure to the more sensitive home furnishings space. Meanwhile, Poshmark's (POSH) slowing growth as of late and need to invest at the expense of margins limit the opportunity.
"While there is macro uncertainty, this already points to a dire scenario and we think a significant amount of the bad news has been priced in," Patel concluded. "We believe risk/reward favors upside, especially for the higher-quality names that check the most boxes in our investment framework."
The full list of initiations and price targets are listed below:
Read UBS' sharply contrasting take on eCommerce that advised far more bearish bent.