Citigroup in talks to sell its Russian operations to local buyers - FT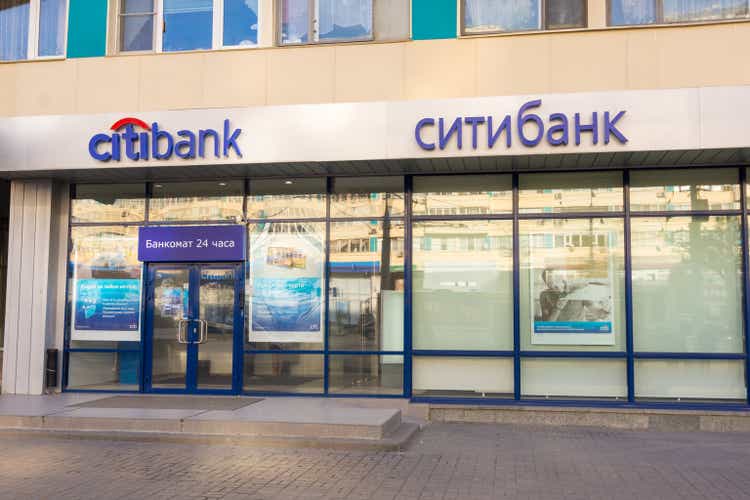 Citgroup (NYSE:C) is in talks with several privately owned Russian companies, including Expobank and insurance firm Reso-Garantia, for the sale of its operations in Russia, the Financial Times reported Friday, citing people familiar with the matter.
Rosbank, Societe Generale's (OTCPK:SCGLF) (OTCPK:SCGLY) former Russian subsidiary, also expressed interest in buying Citi's operations, but it's ability to complete a deal are uncertain as the U.K. imposed sanctions this week on Vladimir Potanin, the oligarch that now owns Rosbank. He hasn't been sanctioned by the U.S. and EU.
After Russia invaded Ukraine in late February, many of the world's largest corporations vowed to either stop operations in Russia or totally pull out. Last month, iconic American brand, McDonald's announced its exit from the country, a move that will result in charges of $1.2B-$1.4B.
Citi's (C) Russian bank is a top 20 lender with 735B rubles ($13.5B) in assets. When its efforts to sell its retail business stalled after the Russia-Ukraine conflict broke out, the company said it would stop taking on new clients and would divest "significant portions" of its local business, the FT reported.
In March, the U.S.-based bank announced plans for all of its businesses to exit Russia. Last year, it had unveiled plans for its consumer bank to exit 13 international markets, including Russia. Russia's invasion of Ukraine in late February reportedly stalled its effort to sell that unit.