KE, Americold Realty lead monthly, quarterly gainers amid strong fundamentals, Opendoor emerges as top loser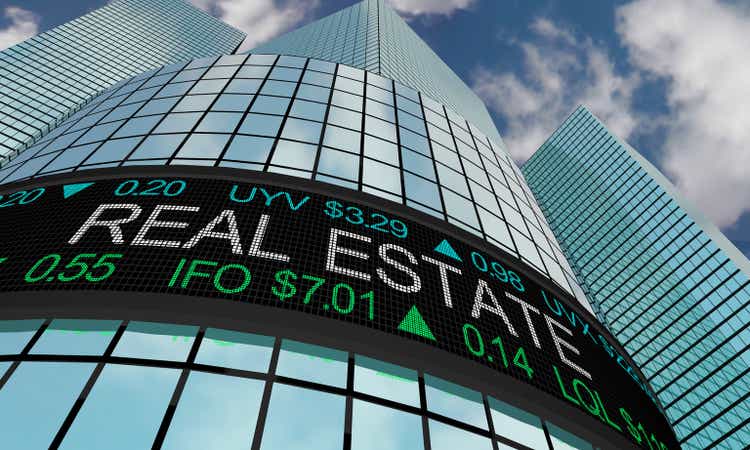 Amidst rising inflation rates, REITs offer investors the best way to insulate their portfolios however the REITs have followed suit of the broader stock market facing a decline.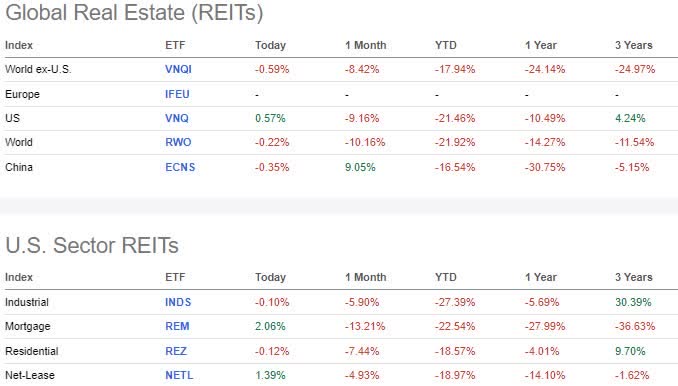 The attraction lies in the rich dividends of the stocks which currently for the S&P 500 Real Estate sector yields stands at 2.5% compared to 1.6% yield from S&P 500 Index; quick look at dividend yields of our top gainers/losers for the month/quarter.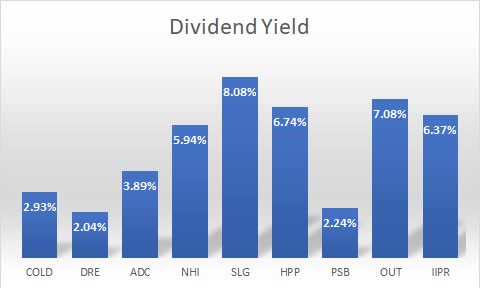 In May 2022, Zillow revised its housing market outlook downwards from April levels; it sees 11.6% home value growth (vs. 14.9% estimated in March) over the next 12 months (May 2022-April 2023) compared to the current 20.9% growth, 5.73M existing home sales are expected in 2022 which is a 6.4% drop from 2021.
In the upcoming three months, Zillow expects home values to grow 5.2%, down from an expectation for 5.5% growth in the prior month's forecast.
Quick look at rating summary of our overlapping monthly/quarterly gainers and losers:

Spiking mortgage rates, inventory gains, and lower-than-expected pending home sales and mortgage application data led to the downward estimate.
Nadia Evangelou, senior economist and director of forecasting at the National Association of Realtors, says rates should average around 5.7% by late 2022; Home prices were up 18.7% from Q1 2021 to Q1 of 2022, according to the latest Federal Housing Finance Agency House Price Index report.
Fannie Mae estimates 2022 prices will grow by 10.8%, but they also forecast a significant cooldown in 2023, with prices climbing just 3.2%.
While taking a look at the monthly and quarterly real estate gainers/losers, we see that KE (BEKE), Americold Realty Trust (COLD), Agree Realty (ADC) form a part of both the monthly and quarterly gainers.

In mid-March, U.S.-listed Chinese financial stocks experienced a significant surge as the country's top policymaker ensured equity market stability and indicated that the Chinese government would take measures to boost the economy in Q1.
BEKE boosts of largest offline agent network (21% of nationwide total in Q1) through 45.8K stores and its "unparalleled" online platform Beike; in its Q1 earnings, the company saw revenue beating estimates by a large $230M; In last week of June, Citigroup initiated coverage on the stock with a Buy rating amid a rebound in housing sales from May due to policy support.
While AmeriCold is confident that it can stay on top of higher labor costs and pass the costs on to customers, in early June BofA upgraded the stock amid recent USDA data indicates stabilizing inventory levels and also that demand for cold storage is not likely to be affected by a slowing economy.
In last week of June, Jefferies indicated that REITs within data center, industrial and senior housing sub-sectors could be best suited for a stagflation environment; sub-sectors have short-duration leases are best positioned to capture inflation as leases re-set.
Senior housing operators are able to increase base rents annually and should continue to benefit from the post-pandemic occupancy recovery.
Prologis (PLD) and Duke Realty (DRE) entered into a definitive merger agreement in mid-June wherein the former will acquire the latter in an all-stock transaction, valued at ~$26B, including assumption of debt.
National Health Investors (NHI) reaffirmed its guidance with NAREIT FFO per diluted common share in a range of $4.32 - $4.42; average occupancy of its Senior Living Communities increased to 82.4% in May vs. 82.3% in April and 81.8% in March while Bickford properties average occupancy increased to 82.6% in May from 82% in April.
PS Business Parks (PSB) saw Q1 Core FFO growth of 9% with rising rental income; its go-shop period expired in May last week after it did not receive any competing offers beside Blackstone; the $7.6B all-cash transaction with Blackstone is seen closing in Q3 2022.
American Campus Communities (ACC) will also see its pending acquisition by Blackstone worth $12.8B to close in Q3 2022.
While, Opendoor Technologies (OPEN), Hudson Pacific Properties (HPP) and SL Green Realty (SLG) form a part of both the monthly and quarterly losers; Opendoor Technologies expects revenue of $4.1B-4.3B in Q2 representing 250% growth at the midpoint and compares with $5.2B in Q1.
WeWork (WE) received Neutral rating at UBS in last week of June amid economic uncertainty impacting the company strengths like growing demand for flex office space arising from pandemic; Hudson Pacific Properties saw a downgrade to Neutral from Buy at BofA as transaction market price discovery and leasing progress on the REIT's largest properties will take longer than expected.
Pebblebrook Hotel Trust (PEB) saw a dullness in its operating metrics in May from April levels despite rising business travel; occupancy rate was 66% in May compared with 68% in April and average daily rate of $311 in May drifted down from $318.