Bed Bath & Beyond has seen cratering sales and margins. Has it fallen enough to become a buy?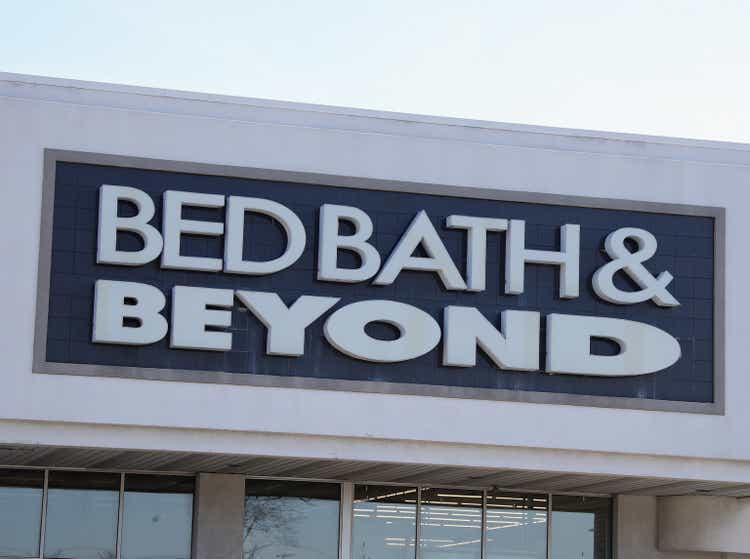 Shares of Bed Bath & Beyond (NASDAQ:BBBY) have collapsed in 2022, lately weighed down by an earnings miss that has sent the stock spiraling. Along with its poor earnings report, the home goods retailer is navigating leadership upheaval, with CEO Mark Tritton leaving the company.
Given its sharp slide so far this year, has the stock plunged far enough to become a buy, a bet that the retailer can turn itself around, even with lingering concerns about the economy?
Dismal Earnings
In late June, Bed Bath & Beyond delivered Q1 non-GAAP EPS and revenue that came up short of what Wall Street was looking for. The firm reported a loss for its latest quarter, dramatically missing the amount analysts were predicting. The company also issued a revenue figure of $1.46B, a decline of 25 from the previous year.
The sales retreat included a 23% decline in comparable sales. This drop outpaced the decline that experts had projected, with analysts generally looking for a fall of about 19%.
Meanwhile, gross margins also contracted, as the company faced higher costs in the current inflationary environment. The figure cratered to 23.9% of sales during the quarter compared to 32.4% a year ago.
Looking closer at the stock performance, shares of BBBY have lost about 68% of their value in 2022. Meanwhile the stock has dropped nearly 84% over the past 12 months.
While this dismal performance comes with few upsides, one minor bright spot comes from signs that the stock now flashes signs it has reached extreme oversold levels. According to the Relative Strength Index indicator, the stock sits near oversold 30 marker.
Is BBBY a Buy?
Wall Street has exhibited extreme skepticism about the BBBY's prospects. Looking at the Wall Street analysts surveyed by Seeking Alpha, nine out of 20 have labeled the stock as either a Strong Sell or Sell. Another nine analysts have classified BBBY as a hold. Only two market watchers have a bullish take, ranking BBBY as a Strong Buy.
Moreover, the bears have grown louder over the past few years while the bulls dissipated over the same period. Below is a 3-year chart showing how analysts have shifted their mindsets towards BBBY with the sellers gaining more control.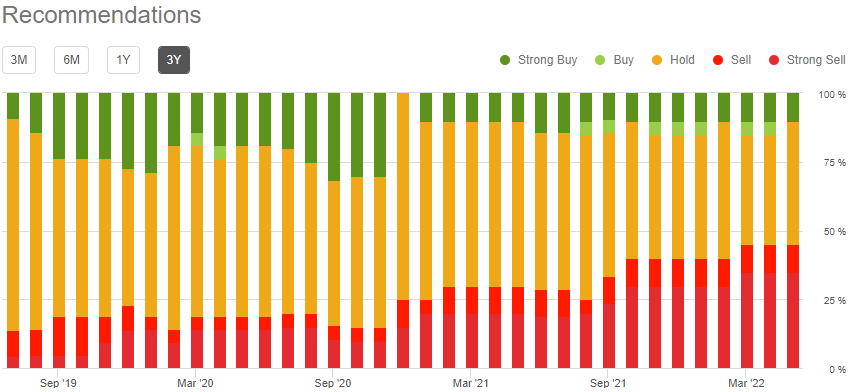 Switching attention towards Seeking Alpha's Quant Ratings, this measure of quantitative measures views the stock with uncertainty. However, with a Hold signal on BBBY, the picture is less grim than that painted by analysts.
The Quant Ratings grade BBBY as an F, D-, and F for the areas of growth, profitability and momentum. However, the stock decline has at least made it seem cheap. BBBY gets an A- with regards to its valuation.
Seeking Alpha contributor Bela Lakos echoed the overall bearish sentiment, citing BBBY's declining sales and contracting margins. However not everyone is a seller, fellow SA contributor Alex Skyu lists BBBY as a Buy despite its shortcomings. If supply chain pressures begin easing in the second half of the year, Skyu s upside of ~50% based on a FWD EV/EBITDA valuation model.