With just 16 new drugs approved in H1 2022, FDA poised for slew of approvals in H2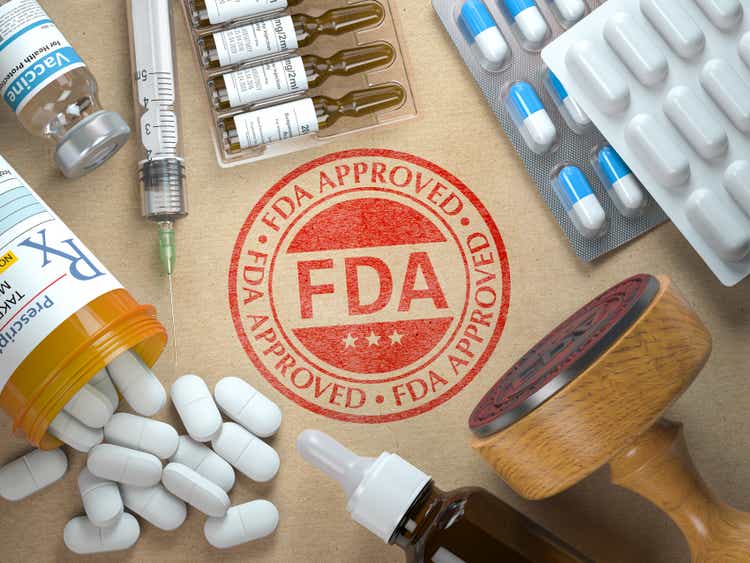 Although the second quarter and first half of 2022 were tough for many companies in the biopharma space, many investors are looking for a turnaround in the second half of the year.
A total of 16 new therapies were approved in the first half of the year. Based on recent annual trends, that's a bit paltry given the U.S. FDA approved 50 new treatments in 2021 and 53 in 2020.
Several companies are poised for a boost thanks to FDA action (PDUFA) dates that are upcoming.
Here are five candidates that the FDA is scheduled to make a decision on in H2 that are the most anticipated -- and could influence the company's stock price.
1. Bristol-Myers Squibb and deucravacitinib.
Bristol (NYSE:BMY) has enjoyed a prosperous first half of the year with shares up 24%. A Sept. 10 PDUFA date for deucravacitinib for moderate-to-severe plaque psoriasis could add upside.
As a allosteric tyrosine kinase 2 inhibitor, deucravacitinib is a potential first-in-class treatment. It is seen as a competitor to Amgen's (AMGN) Otezla (apremilast). Bristol (BMY) has projected peak sales of deucravacitinib of $4B.
BMY already has two approvals this year: Opdualag (nivolumab and relatlimab) for melanoma and Camzyos (mavacamten) for obstructive hypertrophic cardiomyopathy. The company gained the latter drug through its 2020 acquisition of MyoCardia.
2. bluebird bio and beti-cel and eli-cel.
Bluebird (NASDAQ:BLUE) could be singing happy notes in August and September if the FDA approves these lentiviral vector (LVV)-based gene therapies. The action dates for beti-cel and eli-cel are, respectively, Aug. 19 and Sept. 16.
Prospects are good for approval after an FDA panel backed both therapies in June.
Beti-cel is for β-thalassemia, a rare blood disorder, while eli-cel is for the rare neurodegenerative disorder cerebral adrenoleukodystrophy.
The treatments could have peak sales of $100M each, according to Edmund Ingham, a Seeking Alpha contributor.
3. Novartis/BeiGene and tislelizumab.
Novartis (NYSE:NVS) has a lot on the line for tislelizumab for esophageal squamous cell carcinoma. That's because the Swiss pharma doled out $650M upfront and up $1.55M in milestone payments in 2021 to Beigene (BGNE) for ex-China rights to the anti-PD-1 antibody.
In H1 2022, Novartis (NVS) shares stagnated, falling ~3.5%. But with Morgan Stanley Matthew Harrison saying last year that tislelizumab could bring in at least $2B in revenues annually, the July 12 action date could change Novartis' (NVS) fortunes.
4. Amylyx Pharmaceuticals and AMX0035.
AMX0035 is a combination of auroursodeoxycholic acid and sodium phenylbutyrate, two compoundss that protect nerve cells from damage. The drug is believed to ease endoplasmic reticulum stress and mitochondrial dysfunction.
In early June, the FDA informed Amylyx (NASDAQ:AMLX) it was extending the PDUFA date for the amyotrophic lateral sclerosis (ALS) treatment to Sept. 29.
In March, an FDA advisory panel voted 6-4 against recommending approval of the candidate. However, in June, Health Canada approved the medicine under the name Albrioza.
The worldwide ALS market could reach $1.04 billion by 2029, per GlobalData.
5. Amicus Therapeutics and cipaglucosidase alfa and miglustat.
Amicus (FOLD) is seeking approval of the candidates as part of a combination treatment, known as AT-GAA, for Pompe disease. Miglustat is already approved under the name Zavesca for Gaucher disease, but Amicus submitted an NDA for it for the Pompe indication.
The PDUFA dates for cipaglucosidase alfa and miglustat are, respectively, Oct. 29 and Aug. 29, following FDA extensions.
AT-GAA would likely compete against Sanofi's (SNY) Lumizyme (alglucosidase alfa) and Nexviazyme (avalglucosidase alfa-ngpt). Amicus has projected $1.1B in peak sales potential for AT-GAA.