Communications stocks stumble into second half, bracing for slowdown
Jul. 02, 2022 10:17 AM ET
Alphabet Inc. (GOOG), META, T, DIS
GOOGL, PARA, PARAA, FOX, FOXA, ATVI, EA, TTWO, RBLX, SE, SONY, MSFT, VZ, TMUS, DISH, AMX, TEF, ORAN, VOD, BCE, TU, RCI, SJR, SNAP, TWLO, ROKU, SPOT, PINS, CMCSA, WBD, NFLX, BCE:CA, T:CA, RCI.B:CA, SJR.B:CA
By:

Jason Aycock,

SA News Editor
64 Comments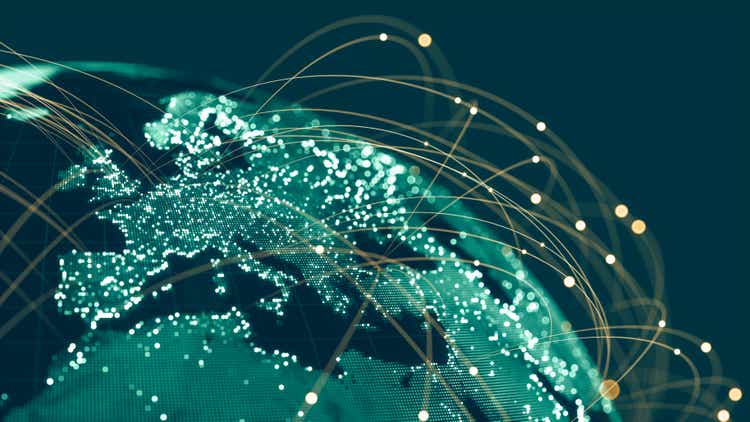 It's not clear whether the economy is headed for recession - or if it's already entered one - but the mood in the Communication Services sector is marked by lowered expectations for the second half of 2022, after what seemed like a nascent recovery from pandemic disruptions ran headlong into high inflation and continued macro pressures. And that follows a first half where stocks overall suffered their worst first half in more than 50 years.
In the case of the sector's biggest names - the ad duopoly of Alphabet (NASDAQ:GOOG) (GOOGL) and Meta Platforms (NASDAQ:META) - that pressure is reflected in a surplus of notes from Wall Street warning about the "ad recession."
A group that had already been rocked by fundamental changes to user tracking spurred by privacy changes at Apple, ad-exposed stocks faced dire notes sounded from all sides. Meta Platforms itself told employees that "headwinds are fierce" for the rest of 2022, and it was time to operate "leaner, meaner, better executing teams."
That echoed a drumbeat of recent digital-ad warnings coming from the likes of J.P. Morgan, RBC Capital Markets, Piper Sandler, Credit Suisse, and Morgan Stanley.
A recession-based ad-spending slowdown doesn't just hit Internet firms, though: It's expected to have impact on media companies and streamers as well, including TV standbys Disney (NYSE:DIS), Comcast (CMCSA), Paramount Global (PARA) (PARAA), Fox (FOX) (FOXA) and Warner Bros. Discovery (WBD) - not to mention surely affecting the speed with which Netflix (NFLX) jumps into an ad-supported tier as urgency grows to fix its own subscriber problem.
A bigger ongoing catalyst for those names is the secular shift to streaming media, even as the deep-pocketed players often must maintain a declining (but cash-producing) legacy TV/film business. Streaming surged to a record share of TV usage in Nielsen's last monthly look at the platform, and at 31.9% of TV time, it's passed broadcast TV (24.4%) and is still creeping up on cable (36.5%).
Videogame companies including Activision Blizzard (ATVI), Electronic Arts (EA), and Take-Two Interactive Software (TTWO) - not to mention Roblox (RBLX) and Sea Limited (SE), and console makers like Sony (SONY) and Microsoft (MSFT) - are generally looking toward a second half that's backloaded with more and better games in the pipeline, as some pandemic disruptions wrinkle out (though the companies saw an engagement boost from stay-at-home orders).
As for the telecoms - Verizon (VZ), AT&T (NYSE:T), T-Mobile (TMUS), and Dish Network (DISH), along with key foreign names including América Móvil (AMX), Telefónica (TEF), Telefônica Brasil, Orange (ORAN), Vodafone (VOD), BCE, Telus (TU), Rogers (RCI) and Shaw (SJR) - they may face more boring times than their flashier media counterparts, but they're sure to draw some attention as safer yield havens in the bear case of a significant recession. (Try sorting Communication Services names based on dividend scores here.)
The backward view on the Communication Services sector is littered with companies that have given up half their value, and then some, so far in 2022 - raising an important question for bear-market investors: Get in or get out?
The decliners for the first half were led by Snap (SNAP), down a full 72% from lofty mid-$40 range stock values to $13.17 heading into the holiday weekend, a slide marked notably by its late-May warning of macroeconomic "deterioration" that would lead it to miss second-quarter targets. (Snap is set to report its numbers July 21.)
It was pushed on the decliners chart by Netflix (NFLX), down 71.4% for the half after its own well-publicized struggles with subscribers, turning from slower growth to an actual decline. That led to a mass exodus from shares April 20.
You'd be forgiven for thinking that Facebook parent Meta Platforms (META) was one of the very worst, but it only lost 53% of its value in the first half.
That was surpassed not only by Snap and Netflix, but also by Sea Limited (SE), down 68.7% for the half; Twilio (TWLO), down 67.5%; Roblox (RBLX), down 66.2%; Roku (ROKU), down 63.5%; and Spotify (SPOT), down 59.7%. Just behind Meta was Pinterest (PINS), a round 50% lower than when it started the year.
In a downbeat half for Communications names, which ones actually paid off for long investors so far in 2022? Telecoms, a well-known defensive haven, dominated the top of that list, making up four of the top five first-half large-cap gainers.
Telefónica (TEF) was tops there, up 20.4% for the half; AT&T (T) was second-best, up 17.6% after adjusting for splits and dividends.
T-Mobile (TMUS) was No. 4, up 14.4% over that span; and France's Orange was fifth-best at a 10.4% gain. The telecom gainers party was broken up by the No. 3 performing large stock, videogame publisher Activision Blizzard (ATVI), up 15.9% for the first half of 2022, thanks almost entirely to January's news that Microsoft (MSFT) planned to acquire the company for nearly $69B.