Netflix's 'Stranger Things' sets viewing record; HBO Max's Potter film scores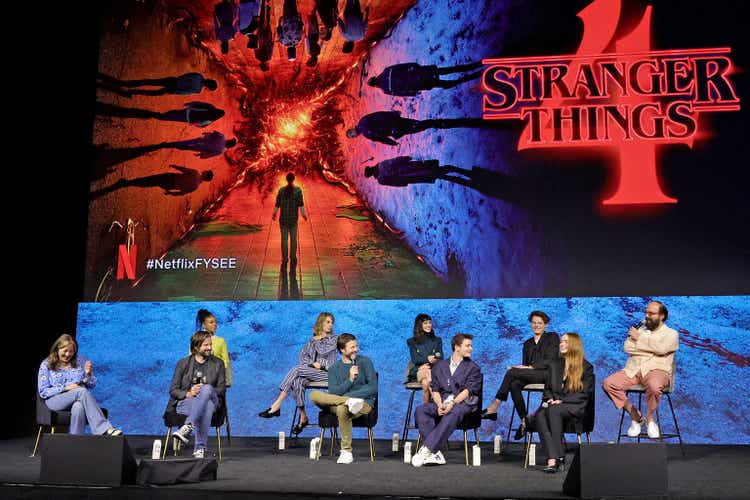 A highly anticipated streaming showdown Memorial Day weekend between Netflix (NASDAQ:NFLX) and Disney (NYSE:DIS) ended up as more memorable for Netflix (NFLX), as a landmark supernatural series obliterated streaming ratings.
Unsurprisingly, the first batch of episodes of the fourth season of Stranger Things (NFLX) easily topped Nielsen rankings for the week of May 23-29, streaming a hefty 5.141B minutes - third-highest sum in Nielsen's streaming history, and well beyond the totals racked up by Disney+ (DIS) series Obi-Wan Kenobi, which streamed a not-bad 1.026B minutes.
But Obi-Wan was still surpassed that week by another recent Netflix favorite, The Lincoln Lawyer (1.239B minutes) - and it was still chased by another Netflix standby at No. 4, Ozark (804M minutes). Disney+ (DIS) placed another success on that week's chart, at No. 8 with Chip 'n Dale: Rescue Rangers (481M minutes), and Amazon Prime Video's (NASDAQ:AMZN) eight episodes of Night Sky settled in at ninth with 440M minutes.
Disney's Chip 'n Dale: Rescue Rangers was also the top movie of that week - coming in just ahead of Netflix's (NFLX) Top Gun (432M minutes), the 1986 film that drew streamers who were getting ready to hit theaters for long-coming sequel Top Gun: Maverick.
Turning to the most recent week of ratings (for May 30-June 5), Stranger Things (NFLX) exploded further onto screens, streaming a record 7.203B minutes. (If you're doing the math, that's just under 13,695 human-years spent watching Stranger Things, in the period of just one week.)
It was once again the easy leader in overall streaming rankings, ahead of fellow Netflix shows All American (1.253B minutes) and The Lincoln Lawyer (966M minutes), as well as a second week (adding a third episode) of Disney's (DIS) Obi-Wan Kenobi, which streamed 958M minutes, and Amazon Prime Video's (AMZN) The Boys, fifth with 949M minutes.
A notable addition landed just behind Amazon's show, as HBO Max (NASDAQ:WBD) joins the list for the first time. The prestige streamer landed on the overall chart at No. 6 with its Harry Potter-series film Fantastic Beasts: The Secrets of Dumbledore, which streamed 758M minutes.
Along with topping the movie chart, HBO Max (WBD) edged onto the acquired-series list. That's Netflix (NFLX) territory, and the streaming pioneer held the top eight slows there, led by All American, NCIS (692M minutes) and CoComelon (615M minutes). But HBO Max (WBD) landed at No. 9 with The Big Bang Theory (352M minutes), and at No. 10 with Friends (346M minutes).
And another interesting first came from Netflix (NFLX) on the movie chart: It placed RRR at No. 9 (188M minutes), the first Hindi-language film to make Nielsen's streaming top 10.
(Nielsen streaming ratings now incorporate viewing from six major streamers: Amazon Prime Video (AMZN), Apple TV+ (AAPL), Disney+ (DIS), HBO Max (WBD), Hulu (DIS) (CMCSA), and Netflix (NFLX).)