Two healthcare REITs form part of weekly real estate gainers while WeWork, Opendoor are among major losers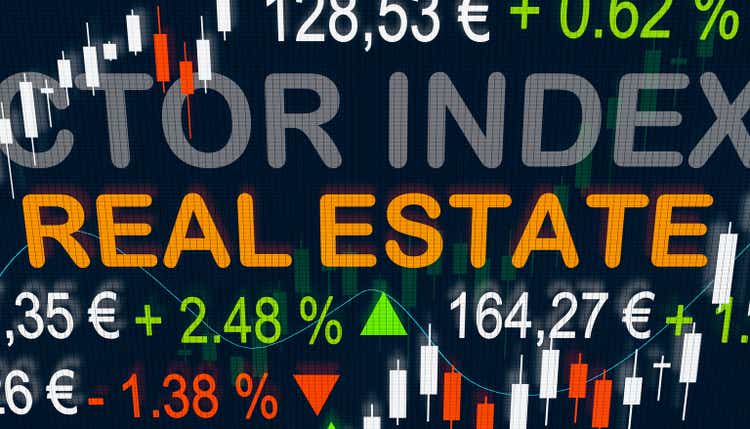 In the real estate sector performance last week, gainers traded in green ahead of the S&P 400 total returns of -2.1%.
Gainers include, The Howard Hughes (HHC) with 4.3% gain, Americold Realty Trust (COLD

) at 3.9%, Healthcare Trust of America (

HTA

) and Healthcare Realty (

HR

) gaining 3.8% and 3.7% respectively, CBRE (

CBRE

) stood at 3.5%.

Of the 11 Wall Street analysts covering the Healthcare Realty Trust stock, 6 have rated Hold while 3 have assigned Strong Buy while 9 analysts covering the CBRE stock, 4 have assigned a Buy rating while 3 rate a Strong Buy.
Weekly losers include WeWork (WE) at 19.7% drop, Opendoor Technologies (OPEN) with 9.7% loss, Claros Mortgage Trust (CMTG) eroded 6.9%, Outfront Media (OUT) lost 6.3%, Innovative Industrial Properties (IIPR) saw 6.2% drop.
WeWork was initiated at UBS with a Neutral rating based on economic uncertainty thereby making investors more cautious about the flexible workspace leader's prospects even with growing demand for flex office space coming out of the pandemic.
WeWork is also at high risk of performing badly based on SA analysis; its Return on Total Assets stands at -20.4% compared to Real Estate sector median of 2.34%.
Opendoor Technologies traded lower amid real estate stocks, especially those with a tech focus continuing to exhibit weakness.
The past week saw mortgage rates reverse their consecutive weekly uptrend; rates narrowed to 5.7% for the June 30 week compared to 5.81% from its prior week led by countervailing forces of high inflation and the increasing possibility of an economic recession.
On the other hand, mortgage applications inched down 0.7% higher from prior week after touching its highest level since 2008 with a 4.2% growth.
Fitch ratings recently revised equity REIT outlook downward to neutral from improving.
SA Contributor Chilton REIT Team recently analyzed the equity REITs takeaways from NAREIT REIT Week.