Alphabet, Meta, Pinterest, Snap pop as Barclays says advertising 'perfect storm is here'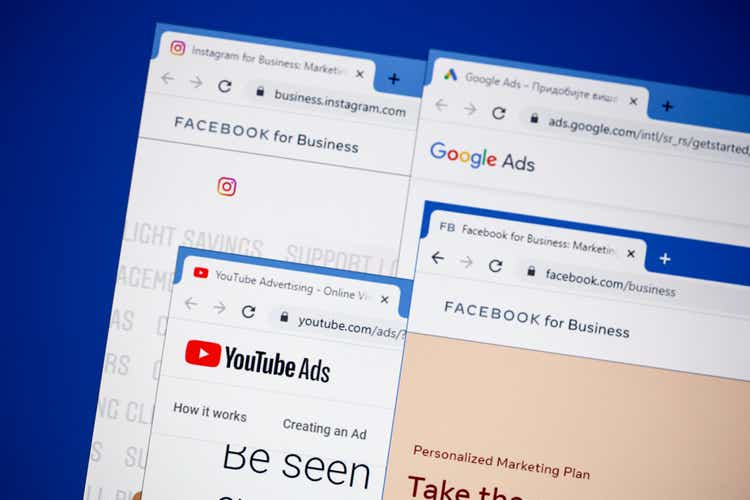 Alphabet (NASDAQ:GOOG) (GOOGL), Meta Platforms (NASDAQ:META), Pinterest (NYSE:PINS) and Snap (NYSE:SNAP) rose sharply on Tuesday, even as investment firm Barclays cut the respective price targets on the group, citing a "perfect storm" in digital advertising amid increased competition and structural headwinds.
Analyst Ross Sandler left the rating on the aforementioned firms unchanged, but lowered the price target on Alphabet (GOOG) (GOOGL) to $3,000 from $3,200; Meta (META) was cut to $280 from $370; Pinterest (PINS) was lowered to $20 from $24; and Snap (SNAP) was slashed to $20 from $42, as there was likely a "step-down" in spend and conversion in the entire internet ecosystem, excluding travel.
Additionally, there are concerns about rising competition from ByteDance's (BDNCE) TikTok and Apple (AAPL), as well as tough year-over-year comparisons.
"We think this cocktail of events is likely to generate the lowest growth rates for the sector in years," Sandler wrote, adding that growth is only expected to grow 3% year-over-year across the industry.
"Valuations already reflect some of this we think, and hopefully the [second-quarter] cuts coming out of earnings set the stage for estimates to be in the right place going forward, allowing these digital ad stocks to stabilize," Sandler added.
Snap (SNAP) and Pinterest (PINS) shares surged more than 8%, while Alphabet (GOOG) (GOOGL), Meta Platforms (META) both gained more than 3%.
The analyst added that Alphabet (GOOG) (GOOGL), Meta Platforms (META) and Amazon (AMZN) have taken "over 100% of every incremental dollar in digital advertising" over the past few years, but TikTok is now slated to grow from $4B in revenue in 2021 to an estimated $12B and potentially more. Apple (AAPL) is estimated to generate around $7B in revenue and with the industry growth slowing, the other companies are likely to see growth slow considerably.
However, with earnings season coming up, much of the slowdown could be "priced in," as multiples have fallen by more than 30% since December and 20% since before the start of the pandemic, Sandler explained.
Alphabet's (GOOG) (GOOGL) Google has faced a wave of litigation and scrutiny over its Play Store approach, including a recent probe from Dutch regulators.